City College has a long history of success written into its soccer programs. With both the men and womens' teams having winning seasons the past 10 consecutive years, their newly appointed head coach, Alexander Zermeno, plans to continue this legacy. 
Zermeno was promoted to the position of head coach this season after two years of serving as an assistant coach under the now retired Head Coach John Sisterson. According to The Director of Athletics LaDeane Hansten, Zermeno nailed his interview and even had players on both teams come in to advocate for him. 
"They really were concerned about losing him as their coach," Hansten said.
Hansten was very impressed with Zermeno's coaching philosophy, and appreciates the attention he gives to his players' academics and mental health. 
Story continues below advertisement
"He's a great example of a head coach who cares for the whole individual as a student athlete," Hansten said. 
Zermeno was born and raised in Goleta, California. He attended high school in Goleta where he played soccer and also earned an associates degree from City College. According to Zermeno, he was an "un-athletic player" but had more of a talent for the tactical side of the sport. One of his coaches took notice of this, and asked him if he had ever considered coaching.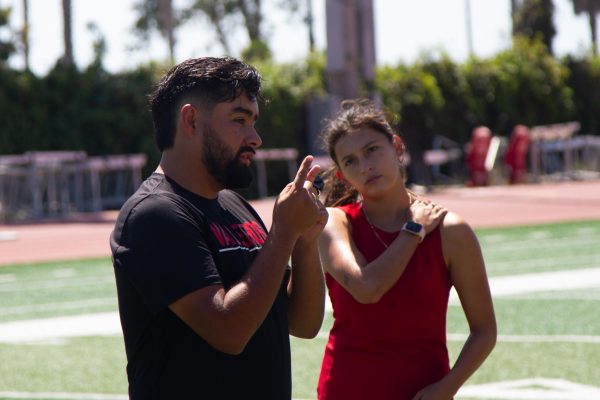 At the age of 15, Zermeno started coaching a recreational soccer team, and from then on never looked back. At 18, Zermeno was coaching a club team, and in 2020 Zermeno took the job of assistant coach for the women's soccer team at Southern Utah University. There, Zermeno had a winning record of 5-3-1 that was cut short by COVID-19. Zermeno decided to move back to Santa Barbara to coach at his alma mater and has been at City College since. 
When asked about his coaching style, Zermeno called himself a "players coach" and a "tactical coach." He believes in positive reinforcement and has created an environment in which his players can come to him with any problems they may have. 
"When I recruit players I always say 'I'm like an older brother that's coaching you,'" Zermeno said. "But when I have to be that authoritative figure I'm not afraid to do that too."
Zermeno is very close with his players on a personal level, and many of them he has known and coached from the time they were in elementary and middle school. The City College team even have pre-game meals together cooked by Zermeno himself.
"Alex always has the best pre-game meals," Hansten said, "He's chef Alex also." 
Zermeno has high praise for both of his teams, and has his sights set on success for the season. The women's team has gotten off to an electric start to the season. They have won their last four games, scoring 18 goals and conceding none. The men's team is sitting on a 1-1-1 record with their most recent game ending in a 2-2 tie against Antelope Valley.  
"We want to win league, that's our first goal," Zermeno said regarding the season ahead. "Our second goal is to make a good state run." 
Zermeno is off to a great start in his new position. He has gained the favor of his players and superiors, and has big plans for his teams' future.