Men's soccer recovers as SBCC triumphs over Moorpark College
Coming off of a loss to Oxnard on Friday, Oct. 15, City College's men's soccer team knew they had to come back strong in the next game.
Head coach John Sisterson said the team was motivated after this defeat. He said the team always looks forward to the next game, so despite the loss, they had constructive training sessions and went into this game with a positive mindset.
"I thought they played very well, it was a compact game," Sisterson said. "I thought Moorpark played very well also. We took the chances that were offered to us and at the end of the day it was all about winning today, keeping our chances open in the conference."
In the 45th minute, City College keeper Sunny Dhaliwal made a back to the bar save leaving the score at the end of the first half 0-0 — although the Vaqueros had multiple opportunities to score.
"We created chances, we're moving the ball around," Sisterson said. "It was a case of just managing the game correctly and making sure if we did get ahead we didn't concede."
After a competitive back-and-forth between teams, Vaqueros defender Juan Zarate scored a header goal off of a cross from midfielder Paulo Carrillo-Weisenburger, in the 66th minute.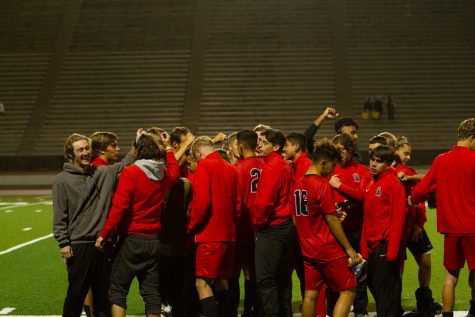 "I knew we needed a goal, so I was just looking for it and it was a great cross by Paul," Zarate said. "I saw the ball and I jumped for it, I was lucky to get it in."
Not long after that, City College scored again in the 75th minute. Dylan Penglase, number 9, crossed the ball into the penalty area, and fellow forward Bart Muns capitalized on the opportunity making it 2-0 with 15 minutes left.
Moorpark bounced back and gained a goal in the 79th minute by number 9, Alec Silva, leaving the ending score 2-1.
"At the end of the day you just got to score more goals than them," Sisterson said. "They score one, we score two, they score two, we score three. We came out ahead and that's what it's all about."