SBCC can't rally past Canyons, fall short in doubleheader at home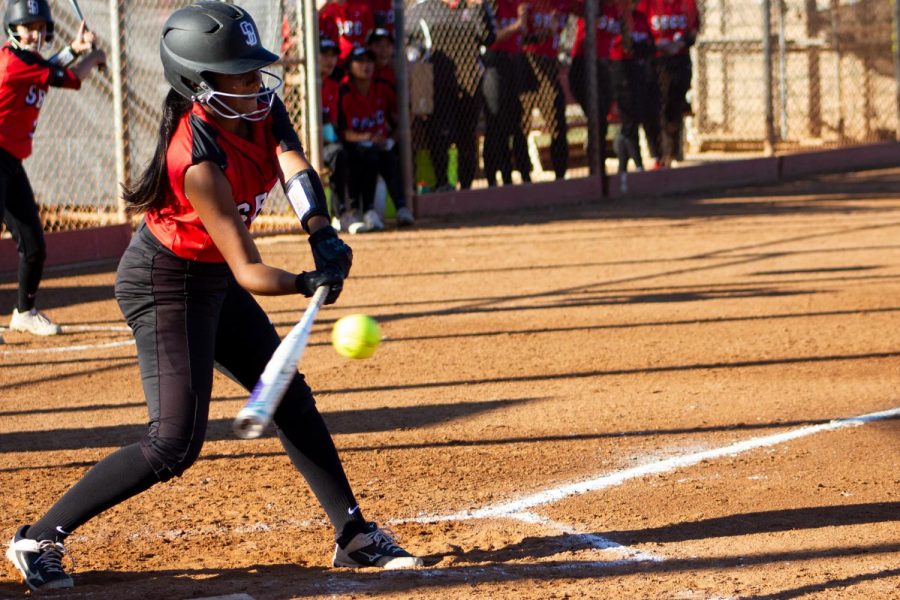 In the span of two innings, the City College softball team watched its one-run lead transform into yet another mercy-rule loss on Tuesday.
The Vaqueros held a narrow 2-1 edge after the fourth inning as they tried to bounce back from an 8-1 loss in the first game of a doubleheader against College of the Canyons, but a nightmare fifth ended any chance at redemption.
By the end of the sixth inning, the game was called early and City College had lost 10-2.
 "We lost the spark," said infielder Madison Foster, who had a hit and a run in each game.
After allowing only one hit in the first four innings, starting pitcher Carson Dunckley allowed Canyons to quickly load the bases with a single, an error, and a walk when she hit a player with a pitch. Cougars infielder Chisato Kawahara capitalized with a base-clearing double, giving her team a 4-2 lead that would only grow.
Ashlynn Heck put an exclamation point on the inning after an error put another runner on base, smashing a two-run homer over the right-field fence.
Dunckley was pulled after hitting two more players with pitches, and Cheyenne Walker finished the game on the mound.
Foster said that the Vaqueros started the game energized, but allowed Canyons to shift the momentum.
"We need to keep the energy level up," she said.
The City College's offense struggled all day, with eight hits between the two games. Both runs in the second game were scored on Cougar errors.
This lack of production has been uncharacteristic as of late, with the Vaqueros averaging over ten runs per game in the four games leading up to the doubleheader.
Head coach Justine Bosio said that Canyons is a good team and her team did not take advantage of its opportunities well enough to win.
"We didn't really show up offensively the way I had hoped we would," she said.
The Cougars' pitchers have stifled plenty of offenses this year, allowing more than three runs in only three games on the way to an 11-3 record so far this season.
The Vaqueros have stumbled out of the gate to a 3-9 start, with the start of conference play just over a week away. They have shown some improvement lately, however, with a 3-3 record in their last six games. 
Foster said that overall the players can work on focusing on the team instead of themselves.
"When you're not having your best game you can still help someone else have their best game," she said.
Bosio pointed to urgency and capitalizing on opponents' mistakes as areas to improve.
"[Canyons] took advantage of our missed pitches," she said. "We didn't do the same."
The Vaqueros return home to kick off conference play at 2:30 p.m on Thursday, March 5 against Oxnard.