Santa Barbara foils the Trojans' plans, beat USC 78-7 at Elings Park
Center Rory Jones scored more tries than USC as the Santa Barbara Rugby Academy thrashed the Trojans 78-7 on Saturday at Elings Park. 
Jones made a statement from the starting whistle in his last game for Santa Barbara, outrunning the USC defense up the right sideline for a long try on his first touch of the game. The score was his first of four on an afternoon where his speed, elusiveness and power were too much for the visiting Trojans.
Jones credited his success to his hard work in training and the other players who helped set him up for his tries.
"I have good teammates to connect with," he said. "Chemistry is the word I'm looking for."
Next season Jones plans on playing professionally for the Los Angeles Loyals, an expansion franchise in Major League Rugby.
Santa Barbara was expecting a battle from a team that they beat in a close 31-26 game last year, but this one got out of hand quickly for USC. The home team led 14-0 after the first few minutes and 40-7 by halftime. 
"The guys were clicking on all cylinders," said Head Coach Kevin Battle.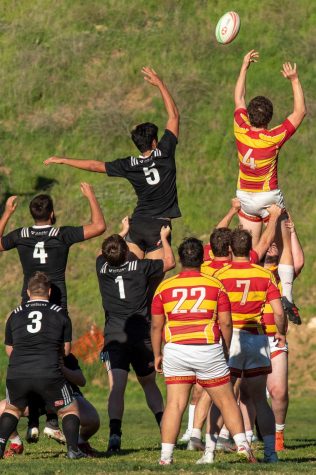 Battle explained that the Trojans are a very physical team, and said that his players did a good job of absorbing USC's size and physicality and using their speed to create scoring opportunities.
One Santa Barbara player who not only matched but exceeded the visitors' physicality was flanker Patrick Moulder. He did not get over the line for a score of his own, but he set up his teammates by delivering crushing tackles, forcing turnovers and dragging defenders behind him every time he touched the ball.
The forward downplayed his own impact after the game, saying, "The backs played really well today."
Battle noticed his impact, however, listing him alongside Jones as the players who impressed him most.
Flyhalf Andrew Byrne's on-field leadership and hammer of a kicking leg also helped shift the tide in Santa Barbara's favor. He credited the team's success to hard work and his coach, Battle.
"Shout out to coach," Byrne said after the match. "He's a great coach. He's done wonders for all of us."
On his own performance, Byrne said, "I don't really worry about that. All that matters is how the team did."
This was Byrne's last season with the Santa Barbara Rugby Academy, and he is hoping to transfer to either UCSB or UCLA.
When asked to review the season as a whole, Battle was proud of his team.
"The season had its ups and downs," he said. "The injury bug bit us. But the guys played exceptionally well."
Moulder agreed that injuries complicated the season, but he was impressed by how everyone worked through as a team.
"We play for each other," he said.