Fuerst, Coulson stellar but can't keep SBCC alive in home opener
Both of City College's men's and women's tennis teams lost to Riverside Community College by razor-thin margins in their Friday home openers, as a few tight matches proved critical in the pair of five to four team losses.
The men's defeat came down to freshman Andreas Fuerst playing in the number four singles spot. He was locked in a fierce duel with Riverside's Chris Lee in a match that seemed to go back and forth all afternoon.
Fuerst won the first set seven to six after a tiebreaker, but Lee battled back to win the next two sets six to three and six to four.
Despite the loss, men's head coach Nathan Jackmon named Fuerst as the player he was most impressed by.
"He was super competitive and super positive," Jackmon said.
The women's team was led by a stellar performance from local freshman Kelly Coulson, who was dominant as the number one singles player. She also got a win as part of the number one doubles team, teaming up with her partner from San Marcos High, Maura Mannix.
"It was a lot of fun," Coulson said about her match with Mannix. "We have great chemistry."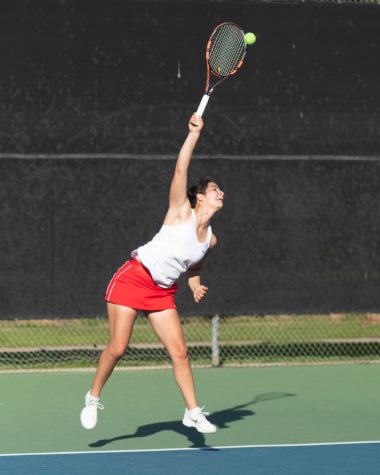 She defeated Maxelle Bernie in two sets in singles, and with Mannix she handled Bernie and Torrey Mateljan eight to four in doubles.
"I felt like I controlled points with my forehand," Coulson said when asked what contributed to her success.
When women's coach Christina Klein was asked who impressed her the most, she highlighted the biggest comeback effort of the day. 
After losing her first singles set one to six, City College freshman Sydney Paillon came back to beat Monica Madrid seven to five and six to four in the next two sets.
"She competed well," Klein said about Paillon. "She didn't get bummed when she lost her first set. It's all about competing, it's what tennis is."
For the men's team the top of the ladder struggled, with number one singles Arthur Scharff, number two singles Kyosuke Kiuchi and the number one doubles team of Fuerst and Zander Martin all falling to their Riverside counterparts.
The women's team can improve in doubles, with Coulson and Mannix notching the only win among the three doubles teams.
"My philosophy is that we need to be in control of the things we can have complete control over," Jackmon said after the day of matches.
He said that his team did just that, controlling their attitude and effort throughout the day.
As far as room for improvement, he explained that his team could work on making adjustments but mostly just needs more experience.
Klein echoed that sentiment, citing experience and confidence as areas to work on.
"We should have won a couple more games," she added.
Both teams will get a chance to improve at 4 p.m. Tuesday against Ventura, with the men playing on the road and the women at home.