Mekaylla White, offense lead SBCC to 6-0 victory over Allan Hancock
Mekaylla White had a hat trick to lead the Santa Barbara City College women's soccer team to a 6-0 victory against conference foe Allan Hancock on Tuesday night. 
"I just was really pumped to play today," White said after the game. "And I just felt like I wanted to score and I was motivated to do that so I came out here and I did it." 
White scored her first goal of the night 22 minutes into the game after Molly Branigan stole the ball and was able to send a cross into the box that she put in the back of the net. 
"She's a good athlete, a strong player, and she's technically good," Head Coach John Sisterson said of his star forward. 
White scored her second goal of the first half after numerous shots on goal were blocked by the Bulldogs defense before she found an opening and finished.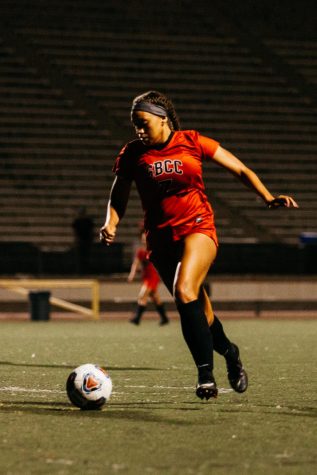 "About three of our players took shots and they just like reflected off the defenders," White said. "And I was able to just control it and shoot it and I was able to finish it." 
White's third and final goal of the night came in the second half when she stole the ball from a Bulldog defender and then dribbled towards goal before striking a powerful shot over the keepers head and into the back of the net. 
Coach Sisterson was pleased with his team's performance and credited the return of sophomore defender Courtney Cook to the lineup for his team's increased offensive output. 
"Again having Courtney back I think made a big difference," he said. "The girls know what a strong player she is." 
This allowed the more offensive threats of White, Sean O'Brien, and Savannah Mohatt to play higher and wider and create more goal-scoring opportunities. 
White was not the only Vaquero to score in the game as three of her teammates also had goals on the night. 
Swedish forward Emilia Sigbratt and Swedish defender Elin Hedstroem both scored their first goals of the year in the game. 
O'Brien got City College going early with a goal in minute four. Hancock's goalie came off her line to challenge O'Brien for the ball, but the Vaqueros freshman forward beat her with a dribble and scored. 
A few minutes after White's first goal Hedstroem scored off a corner kick for the Vaqueros 26 minutes into the game to extend its lead to 3-0. 
The scoring concluded just minutes before the final whistle blew when Georgia Dover's shot on goal hit the crossbar and Sigbratt was able to score off the rebound. 
The Vaqueros next play at 7 p.m on Thursday at La Playa Stadium, in a makeup game against La Pierce, who was not able to travel last Friday to due freeway closures in Southern California.
The team will have a quick turn around as it travels south to play Oxnard in another conference matchup on Friday.