SBCC women's volleyball completes 3-0 sweep of Cuesta
The City College women's volleyball volleyball team took the win in a 3-0 sweep against Cuesta College on Wednesday, Oct. 25, in the Sports Pavilion.
At the end of the first of the three sets, City College was up 25-1. In the second set, Cuesta came up minorly and the match ended 25-16. City College closed with its third win on the final set 25-17.
"We played together tonight, ran our offense and were disciplined on defense,"said McKenzie Garrison, (No. 9).
Garrison is a starter and plays as an outside hitter. She is a freshman at City College.
Garrison said her strategy is to just keep her focus on the next point and to keep her energy high.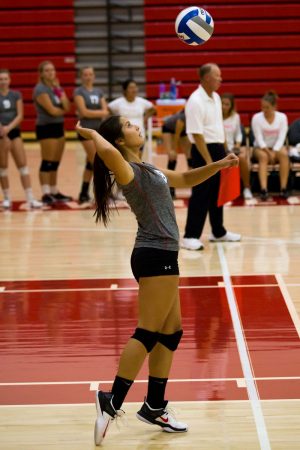 Head Coach Ed Gover spoke highly of Garrison as well as her teammate, Carolyn Andrulis (No. 8).
"McKenzie was a steady force all throughout tonights game. She's really contributing to our offense and blocking. It's super nice having her out there," said Gover.
Garrison said for her, the cross plays were the highlight of the game.
Gover said tonight's game was a smooth one and that his team passed well, dug well and served well.
"Our team stayed aggressive," Gover said.
Gover said libero Avery Mulvey (No. 6) stood out tonight.
"She's kind of the heart and soul of the team. The libero sometimes goes unnoticed. Tonight, to me, she did not go unnoticed," he said.
In this game, Gover said the team maintained the team goals they set up before their match. The goals were a ranged from making sure they get a serve or a tip in a certain area or being able to run a different play and to be able to serve out of it.
"Carolyn is also a great player. She was our MVP last year," Gover added.
"We switched her role and she's really embracing it."
Andrulis played on the court for the majority of the game, and was able to put quite a few points on the scoreboard with her blocks and hits.
Gover said Andrulis plays with a carefree spirit, which he said he likes.
Andrulis is a sophomore at City College who has the second highest number of kills on the team with 145.
"It was a good game. We kept the energy high and did well on minimizing our errors," said Andrulis as she looked at the brightly lit gymnasium that surrounded her.
She added that one of the highlights of the game was the many good blocks that City College put up.
This game moves City College's record to 17-5 this season. This game was its fourth conference game and the team is now halfway through conference play.
The Vaqueros will play their next conference game at 6 p.m. Wednesday, Nov. 1, against Ventura College in the City College Sports Pavilion.