SBCC women's golf champion shoots for professional league
Yu-Hsin Chang, who prefers to go by Carolin, stands cool and collected at the seventh hole at the Santa Barbara Golf Club, the home course of the City College's women's golf team.
The grass is wet with the morning dew, and they've been practicing since 8 a.m. She tests her angle and the grip of her club a few times and takes a swing. Her strike is relaxed, yet firm.
Chang is the 2015 women's golf champion for the California Community College Athletic Association, and a key player on City College's golf team.
"Since I started playing with her, I've been playing better," said Vanessa Watkins, a freshman at City College. "She's really nice both on and off the course."
For Chang, golf is a family affair. Her dad, who Chang says inspired her to pick up the club, plays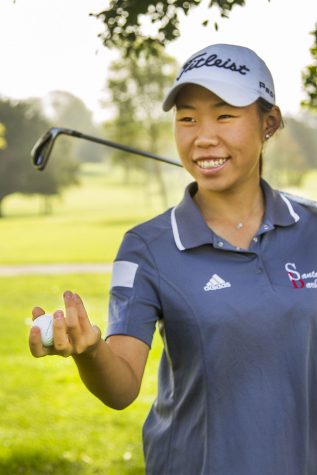 golf for a living in Taiwan and her older brother is a golf coach. It wasn't until Chang was around 13 that she started enjoying golf.
"I hated golf when I was younger," she said.
After graduating high school in 2015, Chang came to the United States from Tainan, Taiwan to play golf. She attended IMG Academy, a boarding school for elite athletes in Florida, where she fine-tuned her golf skills before moving to Santa Barbara last year. She now competes in both the individual and team divisions for the City College.
"It's definitely intimidating," said Corina Garcia, one of Chang's teammate. "She's one of the best players I've ever seen or gotten the chance to play with."
City College head golf coach's Chuck Melendez describes Chang as "an absolute pleasure, because she is really good, honest and intelligent."
With her confident yet relaxed demeanor, she makes it look easy. It's easy to forget the dedication that goes into golfing at a high level while balancing a full college course load.
Chang has to push spending time with friends aside so she can practice for tournaments, which can be isolating, she said.
"Every time I travel, it's like I'm alone."
Chang put golf on hiatus for half a year after last season, and went back home and trained over the summer.
Chang's love for golf is sparked by the striking similarities to life. What sets golf apart from other sports, is that it's a game of strategy and deception.
"Eighteen holes is like 18 different difficulties," Chang says.
After this year, Chang hopes to transfer to a Division I college and eventually compete in the Ladies Professional Golf Association.
Chang believes confidence and hard work is important for success.
"Mostly, I feel like I can be better," she said