SBCC Vaqueros baseball earns fifth win against Oxnard Condors
City College baseball topped the Oxnard Condors, 7-2, for its fifth win in the past six games Thursday afternoon at Pershing Park.
The matchup was the first between the two teams since finishing with an identical 17-7 record and splitting the Western State Conference North Division title last season. The Vaqueros were led by sophomore starting pitcher Steven Ledesma, who got back on track after coming into Thursday with a 6.07 ERA.
"I didn't do very well at the beginning of the season," Ledesma said. "Today was more about just getting back in the zone and try to give my team the best chance to win."
After giving up three hits and a run in the first, Ledesma settled down and tossed six straight shutout innings. Ledesma finished with six strikeouts in seven innings of work.
"I trusted my stuff, I trusted my defense and that's what got me through it," said Ledesma.
Trailing by one after an inning, the City College offense got on the board and added a run in each of the next three innings.
The Vaqueros offense was led by the bottom third of the lineup as left fielder Nicholas Allman, catcher Andrew Cosgrove and center fielder Morgan Lomax combined to go 6-9 with three RBIs.
"We got some timely hitting and got some production at the bottom of the order," said head coach Jeff Walker. "Which we've been lacking at times during the year."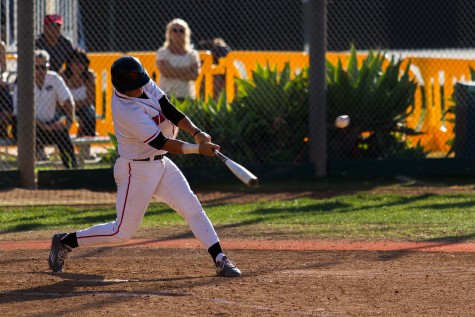 Cosgrove got the Vaqueros on the board in the second with an RBI single. It looked like there would be a close play at the plate but the Oxnard cutoff man mishandled the ball and failed to make the relay throw.
With the score tied at one, Lomax leadoff the bottom of the third with a triple. Lomax scored two at-bats later when third baseman Chris Smutny successfully laid down a suicide squeeze to grab the lead.
The Vaqueros added another run in the fourth, then two more in the sixth thanks to a double by Allman to extend the lead to 5-1.
Designated hitter Nicolas Bereaud put the exclamation mark on the victory with a booming two-run homer that landed in the middle of Castillo Street. Bereaud leads the team with 17 RBIs and three home runs this season.
"That was absolutely unreal," Allman said.
The Condors had an opportunity to get back into the game when they had the bases loaded with no outs in the eighth inning. However, City College pitcher Joseph Osegueda got out of the jam after allowing just one run.
The win improves the Vaqueros record to 2-1 in conference and 5-6 overall. Oxnard falls to 1-2 in conference with the loss.
These teams will finish off the two-game series at 1 p.m. Saturday, Feb. 27 at Oxnard.
"They're a prideful group," Walker said. "So they're going to come out and give us their best effort on Saturday."