Vaqueros offense goes cold; Orange Coast sweeps, 3-0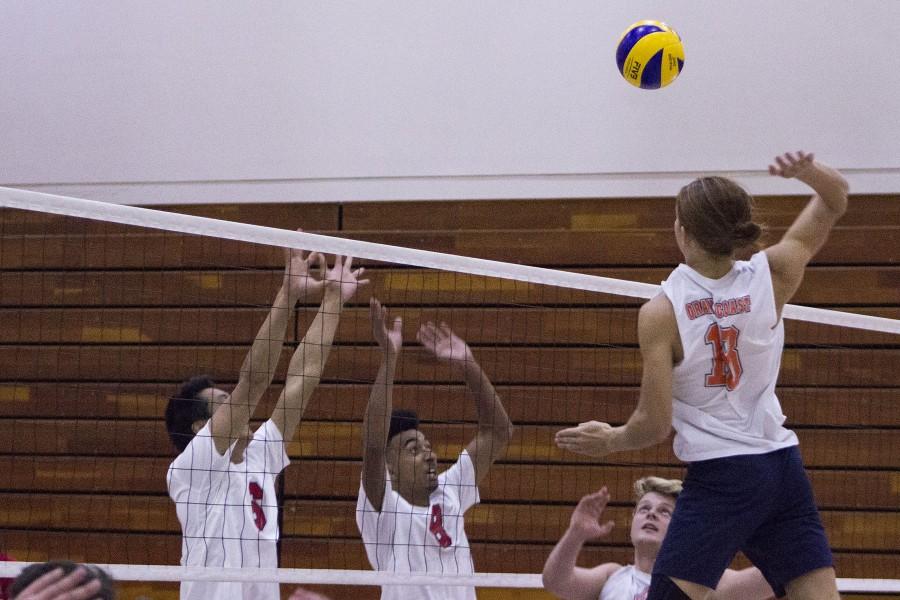 City College men's volleyball was shut down in a 0-3 loss to Orange Coast Saturday afternoon at the Sports Pavilion.
Orange Coast won the three sets 25-20, 25-21, and 25-20 as the Vaqueros had a hitting percentage of only .015.
"That was an uninspired, undisciplined effort," said head coach Matt Jones. "I saw a lot of timidity in our guys today."
Sophomore outside hitter Taylor McCluskey led the Vaqueros in kills, with eight, and tacked on five digs in the loss.
Robert Gulvin, sophomore middle blocker, added five kills and one block, and Haward Gomes, a freshman outside hitter, led the team in digs with six and also contributed four of the Vaqueros' 19 kills today.
"I feel like the errors killed us today," said Gomes. "When we were on a run and we'd make one error, it'd ruin all the momentum completely."
The opening set of the match saw the lead traded off five times before the Pirates went on a 5-0 run to open the score up to 14-19. The Vaqueros clawed their way back within two (20-23) before the Pirates took three points in a row to close out the set.
"We were letting the ball play us, instead of us playing the ball," added third-year coach Jones.
The second set began with a similar tone as the first, with the two teams trading points until Orange Coast took the lead  3-4. City College closed the gap to three points (21-24) behind Kyle Smiley's serving, but the Pirates stood strong and shut down the Vaqueros' attempted comeback with a kill by Gianluca Grasso.
"I feel like we could have had them," said Gomes. "We just couldn't convert when we needed to."
City College got off to a slow start in the third set and found themselves back 3-8. With help from Gomes, freshman libero Matt Bohorquez and the rest of the Vaqueros squad, the lead was cut down to one before the Pirates built up a seven point lead.
The lead proved too big for the Vaqueros to overcome as they lost the final set in the short three-set match, 20-25.
"Our defense was uninspiring tonight, just an all-around poor effort," said Jones.
Orange Coast was led offensively by sophomore outside hitter Adrian Faitalia, who managed 13 kills, and freshman outside hitter Gianluca Grasso, who added another eight.
"Orange Coast is a good team, one we expect to be competing with by the end of the year," added Jones.
With this loss City College falls to 1-1, while Orange Coast improves to 3-0.
"I look forward to playing [UC Santa Cruz], they beat Cal Lutheran 3-1, we beat Cal Lutheran 3-1 so it should be a good game," said Gomes.
City College begins a three game road-trip at 5 p.m. Saturday, Feb. 13 against UC Santa Cruz.