SBCC men's soccer shuts out Hancock in first WSC win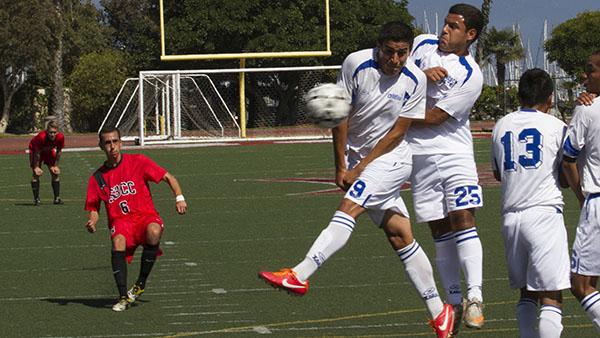 City College men's soccer team won their first Western State Conference game of the season against Hancock Tuesday Sept. 17 at La Playa Stadium, with a dramatic final score of 6-0.
The Vaqueros dominated the ball for the first quarter of the game, with clean passes and non-stop communication. Despite the big win, head coach John Sisterson said there is room for improvement.
"I'm pleased to say they did quite well; still a lot to work on," said Sisterson.  "It's not how you start, it's how you finish, but we started well."
The road to the 6-0 shut out against Hancock started with Daniel Loveday (No. 8), who scored the first goal in the twelfth minute of the game. Alejandro Santana (No. 6) assisted the shot, and in the 39th minute received a penalty kick and scored the Vaqueros second goal.
As they overcame the previous loss to Taft, the City College men controlled the ball efficiently, leaving Hancock College with barely any opportunities to shoot. Hancock managed to get one shot in, which was saved by freshman goalkeeper Juan Rodriguez (No. 00).
"It was a tremendous save," said Sisteron. "Sometimes it's difficult for all goalkeepers; they can switch off if they don't get much action. It was a huge save for us."
Omar Montalvo (No. 30), who assisted a goal and scored two of his own, said the team is finding their rhythm and becoming more connected.
"The last games we weren't able to find our forwards and we could not connect the way coach wanted us to," said Montalvo. "This game we were connecting with our forwards, and I think that was the key to winning the game."
Sisterson said the team is working towards the WSC Championship. He said this goal would be obtained by, "taking every game as it comes."
The next game is at 2 p.m. Friday, Sept. 20 against College of the Canyons. The next home game is at 7 p.m. Tuesday, Sept. 24 against Oxnard College.