Freshman tennis player wins WSC title with perfect 13-0 season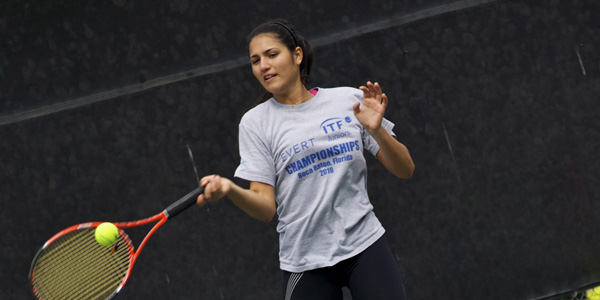 Freshman women's tennis player Bruna Magalhaes won the Western State Conference title with a perfect 13-0 season on Friday, April 12, after defeating Sonia Landeros at Ventura College.
"Bruna's goal is to win the State Championship. The WSC title is nice, the undefeated record in conference play is nice but the goal is to win the State Championship," said first-year coach Ken Thomas, according to a released statement from the City College athletic department.
Magalhaes, the No. 1 seed, beat Landeros, the No. 2 seed, 6-2, 6-3 in a singles title. She also played doubles with her partner Nadya Bravo. They fell 6-2, 6-3 to Juliana Nelkin and Kaori Tsuda of Santa Monica.
Magalhaes, 19, will compete in the Southern Cal Regional at the Ojai Tournament on April 25 to 26, where she will play both singles and doubles.
After winning the title, the Santa Barbara Athletic Round Table chose Magalhaes as the Athlete of the Week on April 15.
She was the first woman from City College to win the WSC title in 28 years. The last winner was Sally Ostrander in 1985.