Vote 'yes' to increase Student Senate general activity fee
The Channels Opinion Pages | EDITORIAL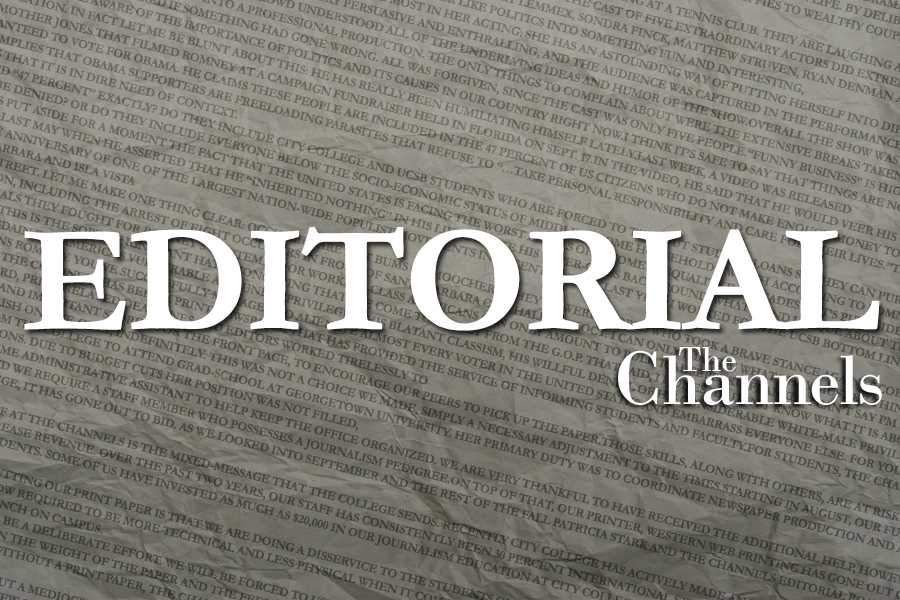 The Channels Editorial Board
April 18, 2017
After a rocky start to the semester, the Associated Student Government has learned from its mistakes.
Student officers approved to convert the $1 student representation fee and increase it to a $5 general activity fee. This proposed change will be on their upcoming student-wide voting ballot.
The Channels Editorial Board supports the fee increase and encourages students to vote "yes" so that the student government can do its job. The student officers have gotten better at being more transparent about the fee this time around by hosting a public town hall meeting weeks in advance to notify students where their money will go.
If the fee changes, the extra funds and removal of strict limitations will expand the possibilities of student projects the student government can take on.
Some of the officer's ideas include: funding a 24-hour library and bringing back the student legal advisor.
Most community colleges have always charged more than $1 for their student fee, which brings the question of whether City College students are given enough opportunity to have a voice.
Only eight students showed up to the student government's town hall meeting to vote for what they thought the fee should cost. Through other student input in classes, 20 more students voted.
The consensus among students was $4.50.
According to Cristian Walk, commissioner of academics, 377 votes would be the most accurate representation of the City College student body.
Unfortunately, very few students ever end up voting for student government issues because of the lack of actions that it is allowed to take through its current fee. If the fee increases, the student government could have the chance to be more prominent on campus.
However, this is the kickstart that student government officers need, and should get, as long as they are held responsible by keeping students up-to-date with what the funds are being used for.
Students are looking forward to the funds being used for projects, and don't want to be let down by the student government voting itself stipends again.
The student government elections are this upcoming week. This spring's election is important because big positions including president and student trustee are on the ballot.
Although we do support the fee increase, we think the elected candidates should proceed with their funds carefully. The fee change well make it easier for the student government to act upon issues.
This is a big shift, but it could be for the better.
Before this semester, many students had no idea about the student government. And it's understandable why they didn't.
The student government has since created its new website, hosted a rally for equality, began sending out a monthly newsletter and put together its first-ever candidates debate.
We encourage students to attend the debate at 5:30 p.m. on Thursday, April 20, and to vote between Monday, April 24 and Thursday, April 27.
It's time to take a leap of faith in our student government for a more progressive City College.