La Playa Stadium was covered under a sea of purple, yellow, orange and blue flowers, cheers rising from mounted cheerleaders, food trucks stacked in the parking lot, and "Unforgettable" by Nat King Cole filled the air. This is the fight to end Alzheimer's. 
On Saturday, Oct. 14, under the solar eclipse, the Alzheimer's Association hosted the Walk to End Alzheimer's at City College's stadium. Alzhemier's patients, caregivers, community members and family flocked together to be a part of a positive, supportive community. 
Founded in 1980, the association is the world's leading fundraiser for Alzheimer's research, education, and community care. The Association organizes 600 walks nationwide, and for Santa Barbara this is the community's 11th year anniversary hosting. 
"The walk helps support the programs, the education, the support groups. It's important to be able to help families to deal with this because it is such an isolating disease," Jordana Lawrence said, educator and care specialist at Alzheimer's Association.
Santa Barbara resident Clare Carey attended the event to show support for her mother's friend Ken who is currently battling Alzheimer's. More than just supporting the individual's living with Alzheimer's, she says it is just as vital to support their caregivers. 
"They have to be so strong all the time, they need to know they have support too. They can fall back into the arms of those of us who are not living with that tragic reality on a daily basis," Carey said.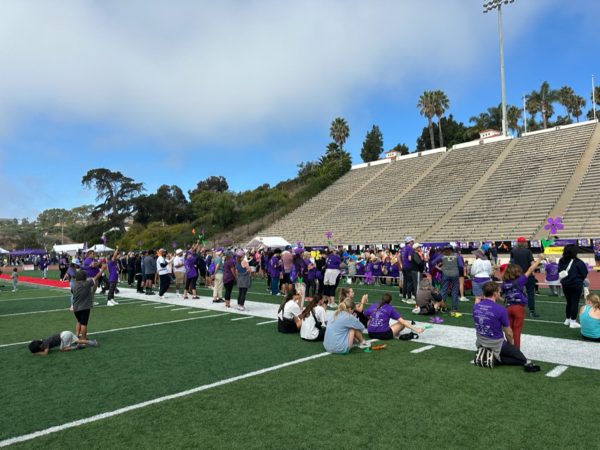 Most attendees were family members or friends of someone who is living with Alzheimer's or caring for a loved one battling the disease. 
Jill Fonte, board member of the Alzheimer's Association and co-chair of the walk, was inspired to first get involved with the organization because of her father's diagnosis of Alzheimer's. To see first hand the effect that Alzheimer's takes on the individual and their family led her to support the organization because of the many resources they offer to communities world wide.
Offered both nationally and locally, the Alzheimer's Association funds a multitude of  free outreach programs and services. In the central coast region community seminars are offered both online and in person to provide education about the early signs of dementia, how to handle and respond to behaviors, and caregiver workshops. Support groups are also funded by the association for caregivers and others who have been affected by the disease along with a 24/7 hotline. 
In the last ten years, funding into Alzhemiers research has increased from $3.7 billion dollars to  $4.2 billion dollars by foundations like the Alzheimer's Association California congressman Salud Carbajal.
"The strong advocacy that you have in the Alzheimer's Association reminding us of the horrible disease and reminding us of our priority is vitally and essentially important if we are going to allocate the resources we need," Carbajal stated. 
Retired physician Dr. Dewayne Nash of Santa Barbara spoke to the crowd just before the walk began. "Some hope is better than no hope," Dr. Nash stated. 
 Just over a decade ago, he was diagnosed with mild cognitive impairment, a precursor diagnosis to Alzheimer's. Due to the advocacy and funding of the Alzheimer's Association and scientists, he is one of many Alzheimer's patients who has received medication to ease his symptoms.  Since his prescription for Aricept, an Alzheimer's medication, plaque build up in his brain that was blocking neuron communication has nearly all been broken down. For Alzheimer's patients, this is the small hope they can cling to as science battles to find a cure.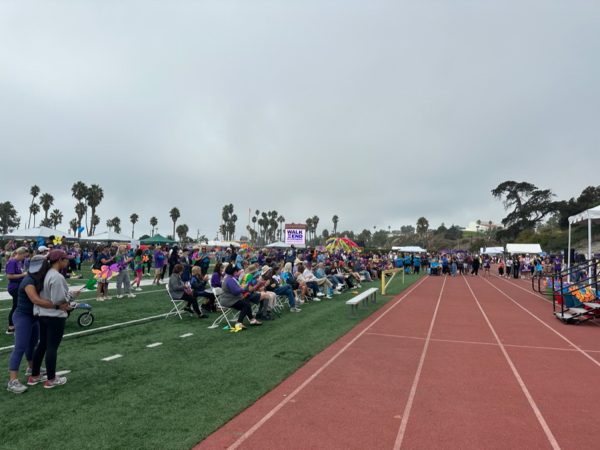 After festivities including food trucks, flower decorating, live music, speech and cheer performances from San Marcos High School, Santa Barbara High School and Bishop Garcia Diego High school, 532 participants took off on a loop around downtown. This year's walk raised $185,771 to be donated to Alzheimer's research.
Story continues below advertisement