A fire at Beach City on Sept. 9 left 14 tenants displaced from their units, each sent to different locations with no estimation of when they can return. 
Fire Marshall Ryan Diguilio of the Santa Barbara City Fire Department and his crew were dispatched to the St. George and Associates housing property at 9:20 p.m. that Saturday. Six fire engines, one fire truck, and one battalion chief arrived on the scene. It took 20 minutes to fully contain the "highly moderate" fire of building 807 that was caused by an electrical malfunction in the attic space of the top floor. Firemen took to the second unit to access the fire burning in the first, preventing it from spreading yet compromising the structural integrity of both apartments in the process.
There were no injuries to residents or firemen, but two out of the six total units were red-tagged, forbidding entry apart from some of the residents being escorted to salvage any personal belongings. Both units are uninhabitable until further notice, leaving 14 male residents to find housing elsewhere.
Story continues below advertisement
Apart from third-party security guards, Beach City Operations Manager Natty Bhumnugkij was the only staff member to arrive on the scene the night of the fire. Despite having been an employee for nearly 5 years, she has never seen an incident of this gravity. 
"I've been in their shoes," Bhumnugkij said, recalling her college days of living in Beach City. "Being away from home for the first time, I can't imagine what they were going through."
The building inspector has not yet confirmed when the displaced tenants can move back in as Bhumnugkij describes there to be a lot of "moving parts" to the situation, including "the city, the fire department, and insurance."
Beach City has instead attempted to relocate the 14 men to other St. George properties, but the layouts, location, and roommates differ. The only option that keeps the original arrangement of roommates together at this time is a hotel room, which St. George is no longer covering expenses for. Bhumnugkij explained that she and other St. George staff members have connections to other landlords that they can reach out to on behalf of any tenants interested in different living options. The scarcity of housing in Santa Barbara county, especially with the University of California Santa Barbara due to start their fall semester on Sept. 28, makes the process difficult nonetheless. 
With Beach City at capacity, Bhumnugkij says the young men have been looking into housing in Isla Vista, which is roughly a 20 minute drive to the City College campus as opposed to Beach City's five minute walk. They are also considering switching to all online classes, and possibly even waiting until next semester to come back. Two tenants have already picked up their checks and gone home. 
"During this time, they just don't want to wait," Bhumnugkij said.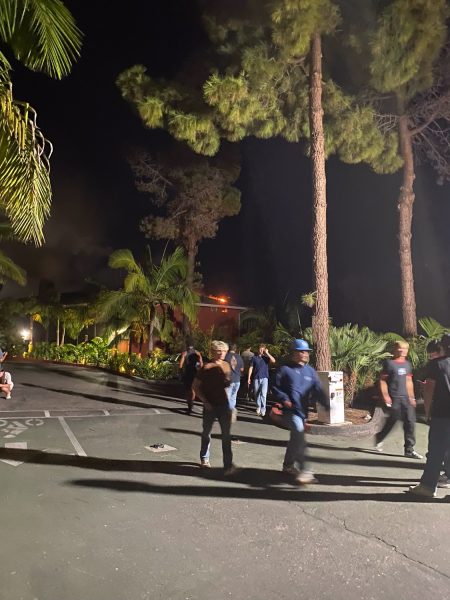 The fire occurred less than two weeks after the start of City College's fall semester. The loss of personal belongings makes school that much more difficult for the student tenants, so the college stepped in to help. Apart from providing cafeteria tokens, bookstore credits, and loaner computers, Bhumnugkij says they have also supplied students with credits to specific stores such as Dominos and Doordash.
In addition, Beach City has distributed laundry credit and food vouchers "for the time being", as well as gift cards to Rusty's Pizza since some of the tenants lack the transportation for a grocery run. 
"We are trying to collaborate on what can they do on the school side and what can we do on the residential side," Bhumnugkij said.