With so much happening within the City College community, The Channels would like to offer a single place for essential information. We'll be compiling a weekly list of current and upcoming events to keep readers up to date on campus news.
The State Street job fair is holding an event on Wednesday, Sept. 28 from 3 to 6 p.m. on the 700 and 800 blocks of State Street. This event will help students and other community members meet with over 50 employers to find full or part-time jobs as well as internship opportunities. To register, fill out this form, or for more information visit their website here. .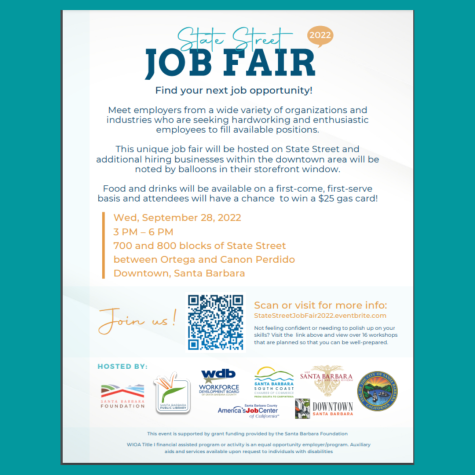 The Golden State Education and Training Grant Program is offering a $2,500 grant to students who lost their jobs because of the pandemic. To be eligible for this grant students must be enrolled in classes, must have lost their job due to the pandemic, and have to meet the asset and income requirements of the Cal grant eligibility requirements. Students can apply here, or for more information email [email protected]. 
Story continues below advertisement
In honor of Hispanic Heritage Month, four Hispanic authors are giving creative writing workshops for City College students in the upcoming weeks. This Wednesday, Sept. 28 from 5 to 6 p.m. author John Manuel Arias will speak about his work and what led him to write on a Zoom meeting. To sign up for this workshop use this link and for further information students can email [email protected].