SBCC student designs, sells custom Hydro Flasks and art on internet
Miranda Alvarez started her own business through Instagram by designing and painting Hydro Flasks before the pandemic started.
Alvarez is a full time student majoring in Psychology at City College who has been into art for a long time.
She posted a picture of her custom art Hydro Flask bottle and "it kind of blew up from there," said Alvarez. She started to get messages from people asking if she could paint their bottles.
"She started painting bottles out of the love she has for drawing and painting," said Anthony Martinez, Alvarez's partner. Martinez, a Westmont student, has known Alvarez for three years.
Around late February, Alvarez created an Instagram account to promote her art called @alvarez_crafts.
Alvarez started selling her art mostly to coworkers, but after shoutouts from friends and family over social media, she started gaining an audience.
The artist takes requests from people to design bottles. It takes her around one to two days to finish one design. Some designs can even take up to a week.
"As of right now I have 30 to 40 people on a waitlist," said Alvarez. She tries to fit time into her schedule to paint, on top of all the workload from school.
She explained that it can get stressful, but "I have met so many people through social media, and I'm also getting a lot of shoutouts," explained Alvarez.
Although she works on the designs alone, "she has moral support to keep pushing her to accomplish her projects," said Martinez.
She gets the Hydro Flask from her customers, and uses acrylic paint for the bottles. Alvarez also provides bottles to those who don't have any and would like to purchase them with a special custom art.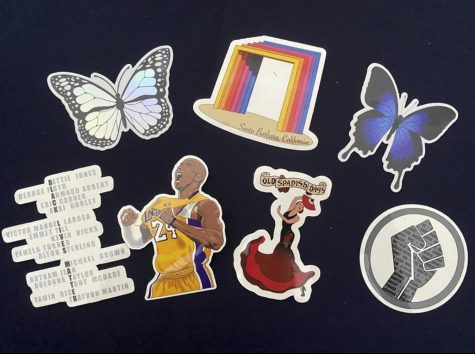 Alvarez not only designs Hydro Flasks, but also started selling stickers a month ago. She has different designs people can buy from. For stickers, taking specific requests gets complicated since she must order a specific amount to complete the order. Alvarez uses her iPad to design the stickers, and even does cartoon versions of clients who request them.  
Martinez also said that half of the profit Alvarez is making from the stickers is being donated to Black Lives Matter charities. 
So far, she is only using Instagram as a business platform, however, she is looking to expand her horizons through other platforms, such as creating a Facebook account.
She has recently been having requests for more than just stickers and hydroflasks. "I had people reaching out, asking me to do designs for them for their clothing lines," said Alvarez.
The best way to help small businesses like her is by sharing their art to other people, especially through social media. "Even just a shoutout will bring so many people," she said.
In the nearby future, Alvarez has plans to buy thrifted clothes, focusing on denim jackets to also design and sell. She has already started working on the jackets, and would like to paint shoes.