Dr. Michelle Paddack, City College marine sciences and ecology assistant professor, spoke of the importance of sustaining and rebuilding coral reefs on Friday, Sept. 1, in the Earth and Biological Sciences Building.
The event, "Recreating Sustainable Coral Reefs: Bridging Traditional Culture with Modern Science," was put on by the Biological Sciences Department and kicked off the first lecture of the Biology Seminar Series this semester.  
"Coral reefs may be something remote for you […] But over half a billion people and counting rely on coral reefs," Paddack said. "Not just for their food, but also for protection of the ocean coming into the coastline, [and] also for building materials."
Though she is a full-time professor, Paddack is still an active researcher focused on population dynamics and ecology of reef fishes. She has recently worked with local governments and conservation organizations to implement marine protected areas in the Federated States of Micronesia.
Story continues below advertisement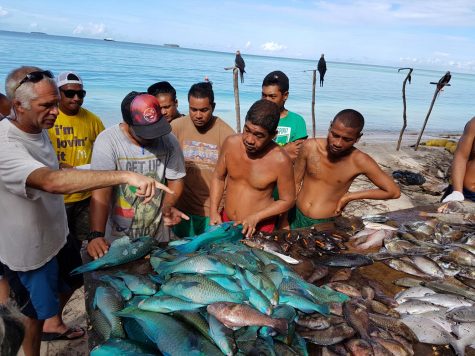 "This work is very strongly based in science, but also very strongly based in culture and sociology." Paddack said. "It's about sustainability, but it's also about keeping cultures and people alive and where they are."
Paddack said that as of the 1970's most of the reefs were fully covered whereas in stark contrast to now, coverage in the caribbean is down to 10 percent.
"It is devastating," she said. "Corals are dying in spades."
Paddack explained how the disappearing reefs has resulted in a decline in various species of fish populations, which has threatened the food security of communities who depend on fishing to feed themselves. As a result, these communities have been forced to rely on imported food such as spam, for survival, causing a surge in health problems like diabetes.  
Paddack and her three other colleagues have set out to make an impact by teaching local leaders and community members techniques to improve fish populations. She said while other organizations have tried to do this in the past, their team was the first to be invited back, because they were willing to listen to the needs of the people and collaborate on a solution, rather than ignorantly ordering them around.
"We are engaging the community in this, and we're empowering them to come up with their own ideas and knowledge and solutions," said Paddack.
Paddack said she and her team are working to figure out how they can maximize their impact, however it is hard because her team is so small. Paddack hopes to find ways to get more City College students involved in the future.
"It's not something we usually think about," said City College student Lauren Wicks, who attended the event.
"Like [Paddack] said, we can get so isolated from these issues, so it's important to be reminded of the impact this is having. And it's inspiring to see someone so committed to making a difference."