'People's Climate March' raises climate change awareness
People filled La Playa Stadium Saturday afternoon, holding colorful signs reading phrases along the lines of "Water is Life," or "100% clean energy."
The "People's Climate March" raised awareness of climate change. Everyone sat on the bleachers and listened to activist speakers give climate change updates and promote clean energy before the crowd would march to Leadbetter Beach.
The speakers varied from high school students to local politicians and concerned citizens, who all share the desire to fight for social, economical and environmental change.
One of those speakers was Emily Williams, who is with 350 Santa Barbara, an organization known for the campaign they ran to fight to ban oil fracking in Santa Barbara.
Williams' speech at the march focused on oil, fracking and the issues that occur as a result of oil production. She talked about how production largely contributes to climate change.
"I have been organizing in this area for about seven to eight years and I have never seen such a great Santa Barbara turnout for this type of event," Williams said.
Dr. Bob Dodge, from Physicians for Social Responsibility in Los Angeles, spoke to the crowd about climate change prevention and finding alternatives for a carbon economy.
"We are here today to prevent the destruction of our people and our planet," Dodge said.
The crowd cheered and clapped for all of the speakers. After Standing Rock and the Sioux Tribe in North Dakota were mentioned, the crowd chanted "Water is life!"
Volunteers with bright-yellow shirts not only helped organize the event, but also made sure to pass around two petition cards per person.
One card was for 100 percent renewable energy, and the other for the county supervisor to vote "no" to new oil in Santa Barbara County.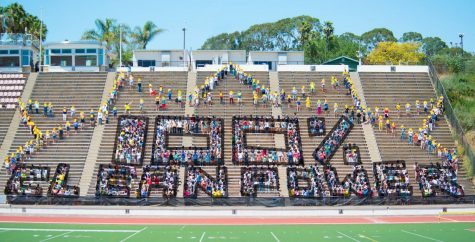 They aimed to get at least 2,000 signatures and were successfully able to reach their goal by the end of the speeches.
Once that ended the crowd was ordered to organize into a formation that spelled out "100% power energy" with a sun overhead. This was for a picture that they hope could go viral to help spread their message. After the picture was taken, people were ready to march.
Adults and children grabbed their signs and sunscreen to begin to march from City College to the beach and along our coast.
As they marched they could be heard chanting "Hey hey! Ho ho! fossils fuels have got to go," while holding up a variety of homemade signs.
Two friends, David Schultz and J'Nelle Holland attended the event and marched with the crowd. They mentioned that they had been to a recent march in Santa Barbara and could usually be seen at rallies fighting to be heard.
Shultz, who came all the way from Newbury Park, explained why this event was important to them.
"We need to take immediate action and we cannot wait for the government to do it," he said.
"We need to be heard and we hope people will hear us and join us" Holland added.