SBCC holds lecture on issues surrounding mental health
The founder and director of Active Minds talked to City College students on Tuesday about issues surrounding mental health and the impacts on young people.
Alison Malmon, who was awarded Washingtonian of the Year along with the CNN Person You Should Know Award, visited Santa Barbara for the first time to share her experience with students. The lecture "Changing the Conversation about Mental Health" was given at the Garvin Theatre.
"The next generation, your generation, thinks, talks, and cares about mental health in a way that no other generation has," she said. "This truly has been made your social justice issue."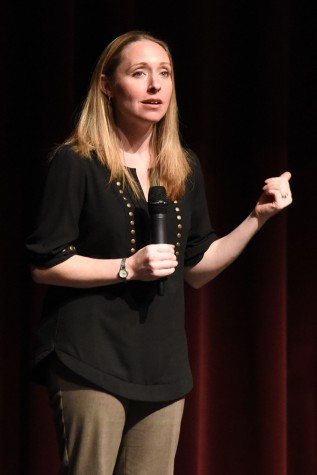 City College Wellness Connection club worked with the Santa Barbara County Department of Behavioral Wellness to bring Malmon to speak on campus.
"If you just reach one student the whole program is worth it," said Club Member Blaise Lemos.
Malmon started the non-profit organization in 2003 to help spread awareness to others and erase the stigma attached to mental illness.
The organization now has over 11,000 student workers across the country and 440 chapters at numerous colleges, including UCSB. The chapters are student-run groups that meet and plan events on campus like the club at City College.
The lecture opened with Malmon explaining what prompted the launch of Active Minds.
"Suicide is a word I had never heard, until my mother called me to tell me my brother had taken his own life," she said.
Her older brother Brian died by suicide after battling with schizoaffective disorder for several years.
"He was a star on the outside but he was suffering on the inside," she said.
Though he seemed to be excelling in every area at Columbia University, he was fighting a battle that he kept secret from everyone else, said Malmon.
"These voices, this depression that he felt, he had started experiencing in February of his freshman year at Columbia," said Malmon. "It was November of his senior year when he came home."
By that time it had been too long since he started having mental issues, she said.
It takes an average of one to two years for a person experiencing mental health symptoms to seek help, according to Malmon. She stressed the importance of having resources available to students along with establishing strong peer connections.  
"Suicide is the second leading cause of death for college students," she said. "67 percent of students feeling suicidal tell a friend before anyone else."
Malmon also emphasized throughout the lecture how much a person can truly be affected by derogatory comments or phrases and that we need to erase them from our vocabulary.
"Any time I hear those words being used it hurts me, because I know that every time Brian heard those words being used he took them extremely personally and thought he was crazy and thought he was insane," she said. "That was not fair to him."
She reiterated that the time has come more than ever for students to be properly educated and to support one another throughout this journey.
"We may not all have mental illness but we all have mental health," Malmon said.