In the Career Center on Wednesday, City College students gathered around three small tables to learn about networking and informational interviewing.
Career Counselors Valerie Eurman and Jenny Cooper interactively taught attendees how to work LinkedIn and conduct the interviews. Eurman stressed the importance of initial contact and having a presence in a group setting or interview, saying that many employers decide quickly whom they want to hire.
"Nowadays a lot of people don't do a lot of handshaking, they do a lot of back slapping and other stuff as well," she said. "But that handshake, that eye contact is really important."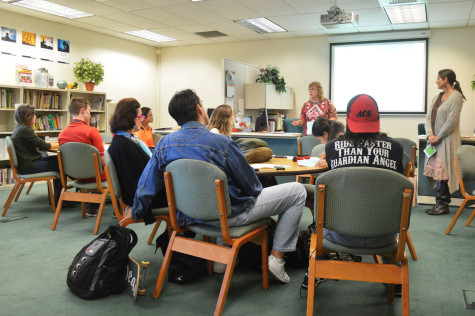 The Career Center's final workshop of the year was held from 3-4 p.m. on Nov. 18, in Student Services Building Room 282.
Story continues below advertisement
Nine students were spread out between three small tables, as Euman walked around and asked questions along with her slideshow. Before the presentation began, she asked everyone to introduce themselves.
The room filled with chatter as students and staff connected, introducing themselves and explaining what brought them to the workshop.
After everyone returned to their seats, the counselors passed out a flyer on informational interviews that pointed out their ability to help students decide what career path interests them. The purpose is for students to call professionals in the field they're interested in and ask questions. The flyers even provided a sample script for the introduction.
"When I was in college I was very, very lost, I was like 'god, I don't know what my major is, I don't know what career I should do, I just don't know…'" said Cooper. "And the thing that got me out of that whole wondering is informational interviews."
Cooper talked about her own experience, having initially done an internship as an elementary school teacher, which she decided was not for her. She said that after one hour of making five phone calls, she was able to choose her current profession as a career counselor.
"This scared me, and the only reason I did it was because it was part of a career class. I hope that this is a requirement of you in your class," Cooper said. "If not, I just, I encourage you to require it of yourself because it's one of the single most powerful tools out there."
Euman emphasized the importance of LinkedIn, and keeping it updated regularly. She demonstrated how to find companies, alumni and update profiles. One slide, titled LinkedIn Etiquette, said to focus on quality and diversity over quantity.
Computer engineering student Diana Tran said the workshop made her re-think her online presence. She referenced a slide that pointed out that 70 percent of employers have reportedly rejected someone because of what they found online.
"That's a pretty high percentage," Tran said. "So I think I'm going to clean up some more or make it more formal, per say."
The Career Center has held several workshops this semester; Euman said that attendance has ranged from eight students to standing room only. To find out about more of their events, readers can visit their webpage.