MTD tackles student bus pass concerns, offers revised deal
The Metropolitan Transit District Assistant General Manager visited the Associated Student Senate meeting to address concerns in the ongoing public transportation fee debate.
Jerry Estrada introduced a newly proposed contract from MTD for a minor fee increase and major service increase during the Associated Student Senate meeting on May 10, 2013.
As it stands, the transportation fee included in tuition is $26.50. The proposal, which previously offered a $43 fee, compromised on a fixed $30 rate for the next two years.
Students' primary concern is paying more for the same service.
"The administration has done a great job of really advocating for the students and I think we're at a point where we think we have a good meeting of lines," said Estrada. "We presented the ideas to our board and got a preliminary nod."
MTD came up with a solution that will increase services on City College-serving lines 24x, 15x, 4, 16 and 17.
During the first week of the semester, Superintendent-President Dr. Lori Gaskin took a trip down to Isla Vista on the infamous 15x bus route—the most impacted line that MTD services. She was appalled when the bus not only arrived late to make students tardy for 8 a.m. classes, but also left a substantial amount of riders back at the bus stop.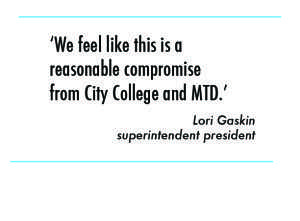 On Monday through Thursdays, the 15x route will make four extra trips from I.V. to City College during the morning hours and one extra trip during the evening. Additionally, times will be changed to five minutes earlier to insure students arrive to classes on time.
Nearly 30 additional trips will be added to the other City College routes.
After a year of negotiations, MTD met with the senate one final time this semester with the more student-friendly plan.
Gaskin expressed her satisfaction with the negotiation.
"It's been a tough semester trying to work through this issue," Gaskin said. "The initial proposal from MTD was really unacceptable from our end because of the magnitude of the increase. We feel like this is a reasonable compromise from City College and MTD."
For the past couple months the senate and administration felt MTD wasn't willing to compromise the 62 percent increase and no promises of better service.
Dr. Gaskin's additional concern was California Education Code 76361, which states that students cannot pay more than $70 for transportation fees. This includes the parking permit and the bus pass.
MTD's initial fee increase would have pushed the transportation fees to nearly $80, and forced City College to lower the parking permit price.
Administration wanted to find a compromise that would be fair for students while still understanding the business aspect that MTD has to support.
The senate and administration support the new proposal and it will go to a student vote in the Fall 2013 semester.