Engineering student determined to succeed, support her family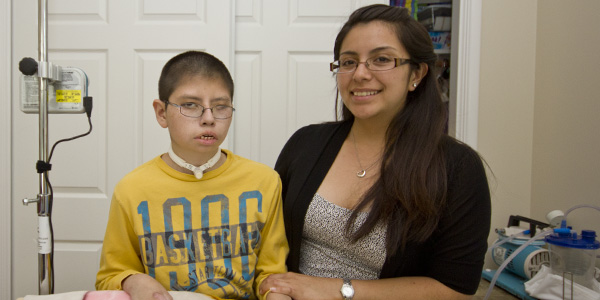 At 2 a.m. every morning, Jasmin Guerrero climbs out of bed to prepare her younger brother for his day.
Her brother, Hector, has a rare neurological disorder that paralyzes his facial nerves, rendering him unable to speak or to eat and breathe without tubes.
"If it wasn't for him I don't know what I'd be doing," said 20-year old Guerrrero.  "He's my motivation for everything that I do."
Jasmin is vice president for the Society of Hispanic Professional Engineers. She taking a full course load and is the first person from her family to attend college.
She beat out 200 others last summer to win a coveted engineering engineering internship at UCSB last summer. She has already been accepted for another internship with CSU Channel Islands this summer.
Her prospects for transfer are excellent except for one thing:
She is the bedrock of support for her family in their round-the-clock care of her profoundly disabled brother. It will be very difficult for her to ever leave home.
 Her Academic Journey
Guerrero's parents came from Mexico to California and are now settled in Goleta.  They have little knowledge of the California school systems to help her with her studies.
"Sometimes parents do everything for their kids," she said. "That wasn't what was available for me."
Her parents were able, however, to impart their tenacity and resilience onto her, which has been a "key part" in her success, she said.
"When I got into high school I became more outgoing and more social," she said. "The faculty kicked off my abilities to do well in school."
She used available resources to tackle advanced placement classes, which eventually led her to City College.  She chose this school to receive a good education while staying close to her family.
The Society of Hispanic Professional Engineers has helped Guerrero find "a second home" at City College.
On April 26, she helped organize and speak at a mixer for young Hispanic children.  These local high school students were chosen to attend based on their interest in engineering.
The mixer featured Sylvia Acevedo, a Latina engineer and commissioner on President Obama's Advisory Commission on Educational Excellence for Hispanics.
"Thankfully, [Acevedo] agreed to come. I know she charges for speeches, but she didn't charge us anything," said society co-president Diego Campos. "Jasmin here was the one who actually got in contact with her."
Guerrero's course load this spring includes linear algebra, thermodynamics, programming fundamentals, "and a spinning class!" she said.
"To manage your time is super important," she added. "Physics is not one of my easy classes. You have to haul [the textbook] around with you everywhere; it's almost like your Bible."
Last summer, Guererro beat over 200 other applicants to work for eight weeks in a chemical engineering lab at UCSB.
"When I got my acceptance letter, I was so nervous after reading it," she exclaimed.  "They used words that they created; they're not even in the dictionary."
Jasmin's work was funded by UCSB and Procter and Gamble Corp.  They used nanotechnology to create molecules for new detergents.
"Imagine, these are super-fine molecules," Guerrero said. "They're like nanometers in diameter."
The Value of Family
Her father, also named Hector Guerrero, works from 5 a.m. to 3 p.m. at Jordano's, a local bakery. He delivers baked goods around Carpinteria and comes home to help his family. Her mother, Silvia Guerrero, works the midnight shift at UCSB as a facilities manager.
After Silvia returns from work at 6 a.m., she spends the rest of her day with her son, Hector, who has been diagnosed with Moebius Syndrome.
"We try to work as a team. Sometimes we are too tired and we cannot finish everything," said Silvia. "We try to keep up with the basics."
It is Jasmine Guerrero who helps Hector, in eighth grade, with his homework.
"I try and do a lot with him, because I know he has the will to learn. His favorite subject to learn is history, but he loves doing murals and collages," Jasmin said with a smile. "If anything he would be an art or history major."
Despite his inability to speak, Hector has learned basic American Sign Language to communicate.
"His favorite thing to ask is, 'What are we doing next?'" Guerrero explained. "He always keeps us in check."
They also have an iPad application called 'Proloque2Go' to help with any communication barriers. This app's interface displays choices for Hector to sort through and form his own sentences.  He is able to choose from categories like conversational and factual topics tomore specific options with a flick of his finger.
"Can you tell them what day it is today?" Hector's mother asked him.
After tapping on his iPad, a computer voice responded, "Today's date is April 27, 2013."
His family loves going for walks or to the store together. Hector likes to help choose clothes for his family.
After picking up a black leather sandal, Hector handed it to his sister and uses sign language to tell her who it's for.
"He does that a lot, and we love it," remarked Silvia. "He has a good sense of style."
A gastrostomy tube is connected to the front of Hector's abdomen and is his main source of sustenance. His family feeds him with special formulas that they cooke and combine every day.
"People could be a bit more understanding," said Guerrero, "and not stand there and inspect him from head to toe."
When in public, Hector tries to hide the gastronomy tube underneath his shirt when in the presence of others.
"Little kids will look at him and be like, 'Mom, what's wrong with him?'" Guerrero said. "It hurts us. When we look at him, we don't see anything wrong."
An Ambiguous Future
With an imminent transfer approaching, the possibility of Guerrero moving away from her family is a source of stress .
"I honestly plan to transfer somewhere locally, so that's why my goal is UCSB," Guerrero said. "I need to get my GPA up because I want to say close to home. My mom, she needs me."
This fact doesn't stop her family from pushing her to her full potential.
"[My dad] sees these colleges on the TV and asks me, 'So when are you going to transfer to Stanford?'" said Guerrero with a laugh.
She may have to get up at 2 a.m. to accomplish her daily to-do list, but she continues to follows her parents' example.
"There are a lot of people on the streets," said Silvia.  "Life is hard.  It becomes harder if you complain about what you would like to do.
"Appreciate what you can do instead of complaining about what you cannot."