Ideas of gender, identity, expression, and self-acceptance manifested from the voices of Vivian Storm and Angel D'mon throughout their lecture and accompanying performances on Tuesday, Jan. 31 in the Atkinson Gallery.  
Qualities of humor and performance were exhibited to engage the audience and to intricately connect the performers' embodiment of modern drag culture with a lecture based on the rich historical background that makes up the essence of Black History Month. 
The lecture opened with "a taste of the beginning," where the historical pathway of the suppression of Black voices and the denial of their humanity was followed through a series of videos detailing their violent mistreatment, forced transportation, and enslavement in America. 
A fight for equality that began before, and persisted throughout the Civil Rights Movement, was rooted in gaining fundamental rights for Black persons, which widely failed to include Black LGBTQ+ persons who lived behind "key players" within the movement. 
Story continues below advertisement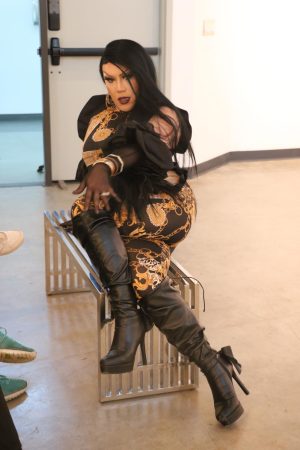 "Behind somebody great, there's somebody gay," Storm said. She emphasized the importance of acknowledging Black persons as the leaders of their history, including those in and out of the spotlight. For example, Martin Luther King was an activist in the spotlight, though his adviser Bayard Rustin, who was openly gay, was a driving force behind the scenes.
As they moved through their lecture, a thematic emphasis on the importance of music was shared by Storm and D'mon who embraced the art of Black musicians and their impact on "[shaping] the way we listen to music today." 
Music can be used as a portal into another time period, Storm explained, where listeners are immersed in a foreign experience through an artist's unique lyrics and rhythm. Through music, listeners can recognize a former struggle, where artists have interpreted their lived experiences through the message in their lyrics.
An appreciation and internalization of the impact that Black artists have had were displayed through the two performers' interactive renditions of varying songs including "Purple Rain" by Prince, "I Like It" by Cardi B, and "Crazy in Love" by Beyoncé. 
"My definition of drag is people making a decision to embody a character or characters based on their lived experiences," Storm said.
She described it as a means of communicating an often dramatized and exaggerated version of themselves through a "character." 
Both performers embodied a character that spoke volumes, without having to speak any words. The lip-synced performances caught the two in their element, where a combination of animated facial expressions and decadent attire accentuated the confidence found in their dance moves, filling the gallery room with captivating energy. 
Storm and D'mon said that they would not be able to perform the way that they do if they were not accepting of themselves, and comfortable in their own skin. 
For D'mon, she struggled with fully accepting herself until she was 30 years old after she let go of past habits that surrounded thinking for other people and worrying about what they were thinking of her. 
It was the "first step into true liberation," D'mon said. As a Kindergarten teacher, D'mon has found that viewers are more engaged through interactive methods of education, as it makes for a more personal "human connection," and it creates a sense of inspiration. She also thinks that a change in curriculum to "teach the history of all people" would be largely beneficial for students of all ages. 
Mariam Martinez, an LGBTQ+ student who works in the Equity Center at City College, thinks that events like this one are "important for visibility," and need to occur more frequently. 
A key takeaway from the event for Martinez was that "behind every strong voice, there are people behind them working two times harder," she said. 
The speakers' impacts were clear through the applause and cheering from the audience whose smiles failed to diminish throughout the entirety of the performances. An invitation for viewers to join the artists in a dance at the end of the lecture amplified their goal of leaving the audience with a sense of belonging, and a feeling that they are heard, seen, and accepted by someone. 
"As we sit in our experience…silence the voice that pressures you to listen," Storm said. "Decide who you want to be in this world. We're going to be ourselves today, there's no later."