SBCC film student goes from video blogging to film festival
Mia Moran, a City College film student, went from making video blogs to directing a film that competed in the Santa Barbara International Film Festival last Saturday.

"I was in online school making YouTube videos," Moran said, "And now I'm in the film festival."
Moran pulled herself out of Lompoc public school early in 11th grade to focus on her YouTube channel while she finished her education online. Her Youtube channel evolved from gaming commentary to shorts and vlogs on mental health, body image, womanhood, and fashion.

"I think people should know that despite what you had to go through with stuff at home or school or what you look like you can still make stuff happen if you dedicate yourself," Moran said.   
Tired of being "forced to be around the same people everyday," she began adventuring south of Lompoc to LA and San Diego, making friends that shared her interests which eventually landed her in Santa Barbara.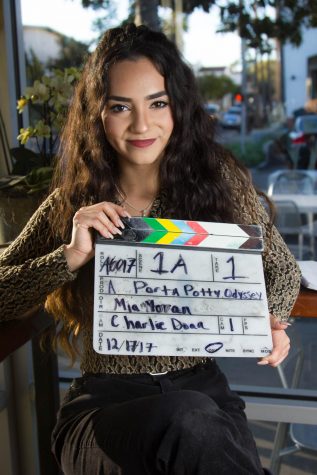 Then, as a film student at City College, Moran heard about the 10-10-10 competition.

It was past deadline when Ted Mills sent out an email saying that the competition was still looking for City College directors. Moran applied for the competition fearing she might regret it if she didn't.  
Her film, titled "Porta Potty Odyssey" and written by Jimmy Reynolds, is a story about a boy in the friendzone who takes questionable measures to impress his crush.
"There's a porta potty? And it's about being friendzoned? I have to direct this," Moran said.

Moran took initiative in bringing the script to life, starting a GoFundMe in order to make back the money spent on production.  She describes the film as a romantic comedy set in the 90's that doubles as a coming-of-age story and delves into the adolescent anxiety of teenage love.
"He takes the advice, picks up this girl, and everything goes completely wrong," Moran said about the film.

Professor Ted Mills described Moran's enthusiasm and work ethic. "She wasn't going to wait for anyone to give her permission. She would just go and grab it," he said. Moran worked for months on pre-production, continuing through the effects of the Thomas Fire.       
Ultimately, her film fell short of winning the competition while one of her classmates Jack Lent won for his screenplay. "She seemed as happy for him to win as if she had won," Mills said of Moran's reaction during the festival's awards ceremony on Feb. 10.   
"The whole entire crowd was screaming and I could hear my family from all the way in the front," Moran said. "My family is absolutely everything to me."  
Moving forward, Moran says she wants to make films and travel, listing New Zealand as one of her dream destinations.  
"I really want to do music videos,"  she said. "I'm always inspired by music and poetry."  
Moran has a year and a half left of general education classes at City College, and then she plans to transfer to CSU Northridge as a film major.