SBCC new world jazz ensemble joins grammy winning artist
City College's New World Jazz Ensemble played with a ferocity and charm that made for an amazing evening of music and dancing.
Michael McDonald, a five time grammy winning singer and songwriter, performed with multiple eclectic musicians for the Alano Club of Santa Barbara's fundraiser.
The concert began light as Dylan Mcdonald and Ian Ferguson played an acoustic set comprised of classic songs followed by "No Reply" by The Beatles.
Tommy Alexander, a Santa Barbara native, played loudly on his guitar.
The ones that stole the show, were the New World Jazz Ensemble. They started out with a classic jazz piece that showed they knew how to play, despite a rough patch in the beginning.
After, they started into a funky song that was loaded with improvisation, the entire band had a chemistry that flowed like water. Saxophonist Kyle Tefft was joined by trumpeter Andrew Godinez, who harmonized him perfectly.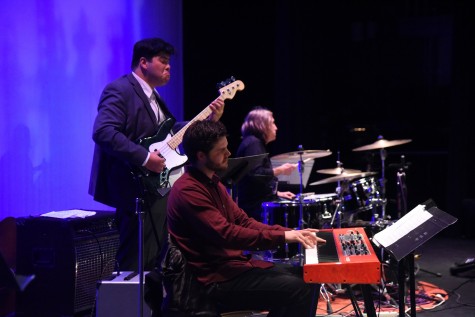 Tefft and pianist Benjamin Huston both soloed with an intenseness that proved just how much they love what they do.
After the funk number, they played a "quick song" as described by conductor Tony Ybarra that lasted about seven minutes and had great solos by drummer Westin Byerly and Sebastian Martinez. Guitarist Jeff Cifuentes kept the rhythm pumping the entire time.
During their set, the crowd was excited, whistling through the solos and giving standing ovations after their songs.
McDonald played a somber song that he very rarely plays. After, he unleashed into a breath-taking song that he sang with his wife and sister. Tefft, Huston and Martinez joined McDonald for three more songs that kept the beat going.
Martinez slapped the bass in a seemingly effortless way that led to some great sounding undertones. McDonald's booming vocals matched Tefft's smooth playing in a poetic way. Huston stood out again during his set with the way he could match McDonald on the piano and even added a little funk to it as well. He made it look like the piano was the part of him that he was missing.
Tefft delivered beautiful, almost heart-wrenching solos at the perfect moment every time. The crowd seemed to notice as they screamed in delight every time he delivered.
After the first few songs, the crowd started to get involved after George Ogle, the unofficial promoter, started bringing people up to dance with him. By the end of the night, the entire crowd was on their feet dancing what appeared to be a lindy to McDonalds baritoned voice.