'Fight Club' meets 'Sixth Sense' in upcoming SBCC alumni's film
Benjamin Golabre sat up in his chair with a Monster energy drink half empty in his hand, thinking about the question, "Is being a film director worth it?"
"You have to be driven by inspiration; it is an impossible career to succeed in if you are only driven by money," said Golabre, a City College film alumni and current feature film director of "She Dreams of Fireflies."
Golabre is the first graduate of the film production department to produce a full-length film. He will direct, with Monique Rosari writing. They will begin filming in New York in the spring and are set to be finished by Fall 2016. The majority of the funding is coming from the television network, Lifetime, as well as co-producers like Golabre and private investors.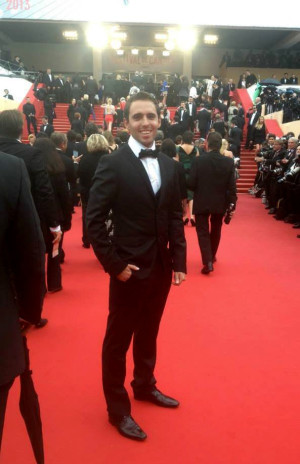 Cast members currently include Mary Wilson, Dominique Swain, Jonathan Lipniki, Ryan Slater, Wolfgang Bodison and Karron Graves.
Golbare describes "She Dreams of Fireflies" as "female driven," and focuses on the issue of female and child abuse, which is expected to create  dark and intense scenes. The narrator is the main female character, and the audience is watching the storyline play out through the eyes and imagination of the main character.
"It really is about a how a women can survive is a manly world," said the director. "It's very realistic, but a little bit fantastic too."
Golabre describes "She Dreams of Fireflies" as "Fight Club" meets "Sixth Sense." The inspiration behind the film comes from notable American directors and some of Golabre's favorites such as Martin Scorsese, Terrence Malick and Quentin Tarantino.
"It's really a combination of things," Golabre said. "With Malick, I like the cinematography. Tarantino—the style, he does stuff that no one does."
Golabre graduated from City College in 2013 after two years as a film production major. He moved from France to Chicago in 2009, then to Santa Barbara in 2011. He said that he knew he wanted to be a film major right when he started at City College. He started off, however, as a student in Film Studies 101 and continued taking film production classes as his interest grew. He said learned a lot from the cinematography and directing classes but he mostly taught himself editing.
"Even though you cannot be the best in everything, to know how everything works is pretty important," said Golabre.
Along with fellow City College student Gabriella Gullen, Golabre attended the Cannes Film Festival in 2013 for their 10-minute student film "The Knockout Game" at the festival's Short Film Corner. They recently found a distributor in Europe for the short film.
While at Cannes in 2014, he was able to network and connect with a producer for the funding of "Fireflies."
Golabre spoke to Curtis Bieber's Film and Television Production course, Directing for the Camera, in late September. He was a student of Bieber's and described as "very engaged" by his film production professor.
"He was a good student with good insights to class projects," said Bieber, chair of the film production department. "The film he did for our class had good insight to human emotions and had a great sense of story, which is obviously what is serving him well in his future."
Golabre is currently living in Los Angeles and is continuing his directing career with the multitude of opportunities being presented to him. He has been asked to direct and produce two other scripts and has already been involved in the directing of three music videos being released this November, December and January.
"A lot about writing and directing comes from yourself. It's an inclusion of a lot of personal stuff," Golabre said. "But what? I do not know. I need to see a psychiatrist for that."