City College artists have passion for decay and chaos
City College students, Seeon Kim and Sasha Colbert, have dreams of living a life through art. They encompass an original style to their methodical approaches. With Kim, a graphic illustrator, and Colbert, a studio artist, they both offer diversity in the art community— yet a very similar love for what they do.
Seeon Kim
With a passion for graphic illustration and an appetite for digital media, Seeon Kim takes simple photographs and transforms them to a computer-generated collage, expressing the charisma of each of her subjects.
Kim, a student at City College, is a fanatic about vibrant, as well as eclectic tones that set the mood for her creative process.
"The usual portrait is made from oil paints or watercolor— very traditional styles, but for me it's kind of about involving new styles," said Kim.
She starts by interviewing a friend and writes down their interests and favorite things, then sketches something out. She snaps a photo and begins to work. By scanning these photos through the computer and using a digital tablet to design the foreground, background and subject, Kim transforms an average picture into a unique and personalized piece of art.
Using Photoshop and Illustrator (a program by Adobe), Kim is able to manipulate images and overlay scanned drawings until the digital canvas is complete.
In the student show, "Chaos and Creation," curated by student intern Lia DeWit, Kim's graphic illustration, "Born to be Wild" was chosen as the exhibition poster image.
"I picked the piece that was exactly what I wanted and built off of that," said DeWit on choosing Kim's piece to be displayed on the posters.
Influences of Banksy and Obey show Kim that she too can have an exhibit that features her graphic illustrations.
A professor in South Korea, where Kim is from, is one of her highest inspirations. As an employee for Adobe, he often suggested Kim might fit in there perfectly as a creative director.
"It's kind of my dream company," said Kim, laughing.
To see Kim's work, visit her website: mangoseeproject.com.
Sasha Colbert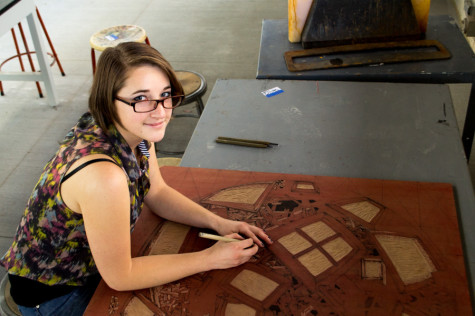 With a distinctive purpose for finding the beauty within decay, Sasha Colbert, a student at City College, creates artwork based on the mere premise that everything in its own form is exquisite.
The Santa Barbara native and artist acknowledges her hometown for its calmness and serenity— but it wasn't the polished gaudiness of materialistic items that captured her attention, it was the natural environment in its entirety.
"I just enjoy elevating things that are usually forgotten about, or things that have been thrown away and give them sort of a new life by taking a moment to record them and spend time with them," Colbert said.
Colbert is learning to working in new mediums and styles as a studio art major. She also has a passion for photography where her natural style is embossed throughout her work.
Her recent piece in the student show, "Chaos and Creation" was one of ten works of art chosen for the exhibition. As a response to the Eastern Sierra Nevada geology trip conducted by City College, Colbert etched a geological formation into the shape of a human figure.
As well as being an artist, the 22-year-old is also a tutor for the printmaking lab.
"Printmaking is a medium that can take a simple drawing and transform and develop it to make it something finalized and beautiful," Colbert said.
A clear focus on certain aspects gives Colbert's work a feeling of wholeness and individuality. Elements of time, decay and history are all coherent parts in making a Colbert original.
The print installation artist, Crystal Wagner is a favorite of Colbert's. Wagner's large-scale installations, made from paper items fill up creative spaces that resemble natural qualities of life and the allure of the boundless environment.
With hopes of one day owning her own print shop, the young artist continues to create work she is passionate about.
When asked what she hopes people perceive of her work, Colbert replied, "I hope that my work inspires people to see a different type of beauty than they did before and inspire them to look at the world around them in a different way."