Student artist Amber Silva incorporates the fourth dimension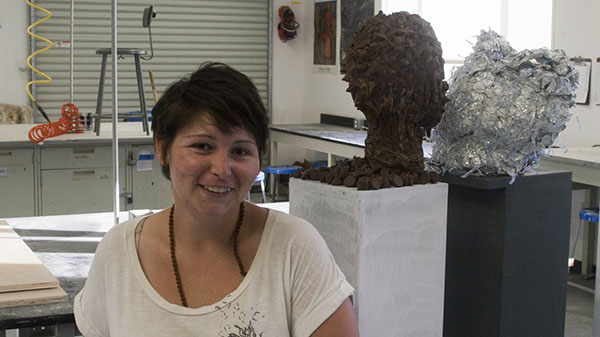 Her plaster-stained boots and pixie haircut may be the outer facade of the 28-year-old artist, Amber Silva, but those aren't the only things that make up her creative and abstract persona.
The gooey, paste-like anatomical shaped head that stands high on a white, rectangular pedestal is the sculpture created by the City College student.
What began as simple, figurative ideas have transformed into the homemade bubblegum head sculpture that speaks just as loud to a person's mind as it does to their eyes.
"I see a lot of myself in my work," said Silva.
Working figuratively is natural for her when developing a concept for her art and says its how she learned to understand herself.
With a primary focus on 3D art but headed into a new realm of motion media—known as 4D art, Silva is constantly reinventing and reconstructing her personal stylistic ways.
Growing up in an environment where art was never allowed to be a possible career path, it was Silva's imagination that really propelled her into the start of something great.
While she uses many original aspects in her work, she says she was really inspired by contemporary artist, Paul McCarthy.
"Paul uses color to unify something," said Silva. "Using color theory takes an idea that's cool and makes it stronger."
In her first approach to making a baby blanket, the abstract artist used about 50 Cabbage Patch dolls to aid in her creative process to making something different.
"I removed their arms and legs and then I attached what would be their limbs to each other. Wherever it is cut off, I just connected it," said Silva.
Anatomy classes have also been a major inspiration in her artistic vision. After seeing cadavers, her perspective on human life changed and her insight into the importance of each system took her work into a more figurative stage. 


Her recent sculptures of bubblegum heads and rainbow sprinkle faces have emulated resemblances of anatomical figures.
"I'm all about the flesh tones," said Silva laughing. 
 
"There is something ephemeral and eternal about it and it helps you understand that this is something deeper, it's less plastic and more human-like."
Helping her progress as a multi-dimensional artist is sculpture professor, Edward Inks. 
 
As a teacher for 23 years at City College, Inks is familiar with the hard work and creativity necessary to reach your purpose.
 
Inks is often the one to suggest possible routes when Silva is working on a new piece. A sort of "push in the butt," he says.
Silva appreciates the knowledge from Inks and is encouraged by his expertise. Working with Inks has provided her multiple resources to get her work into the public.
"It's an advantage that I wouldn't have by myself because I wouldn't have anybody talking about my work," said Silva.
The new area of emerging art, known as four-dimensional includes many different facets of artistic mediums. By incorporating time as form of communication, alongside gaming and sound, it is viewed as a performance piece.
She describes this artistic approach as "movement based."
 One of her newer pieces is the sculpture of Hershey kisses covering a cosmetology head. This new series features edible items covering anatomical faces that uncover unexpected emotions.
A previous student of the Art Institute of Chicago, Silva has experimented with other mediums in art— such as printmaking and ceramics. 

Her quirky personality and old soul spirit all add to her unique personality but as a woman, she is very in tune with how feminism could shape aspects of society.
Believing that art coincides with feministic ideas, her artwork has focused on the idea of male spirit intertwined with the female spirit.
"I feel like encouraging feminism in everybody will really lead to making everything a better place," said Silva.
Silva is not the only one experimenting with 4D art. Many artists have been incorporating time and movement into their recent pieces. 
 
The School of Art at the University of Tennessee has recently included four-dimensional arts as an interdisciplinary of study. In a statement on their school's website, they emphasize incorporating cinema, performance, and instillation practices.
One of her well-known pieces was a 4D experimental project. In this performance piece, Silva made a phallic shaped quilt .
"The quilt mirrors how nature reproduces, spilling its spores to find their mates," said Silva. 
"I've really found myself in my work."
From doing mostly figurative pieces, the transition into motion media has lit a new pathway to explore. With the help of knowledgeable mentors and a quirky personality, Silva's work is seen as original and explorative.