SBCC sound recording instructor works with famous stars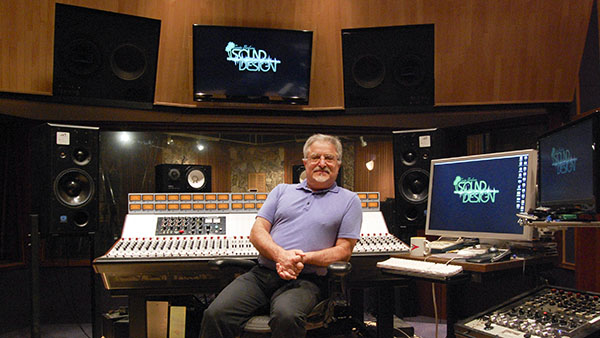 Students enrolled in Dom Camardella's yearlong sound recording class receive more than a knowledgeable instructor, they learn from a prominent recording artist in the industry.
In his Downtown studio, framed records scatter the walls and the interior hasn't changed much since he purchased the building in the mid 80's. But despite the retro appearance, it has all the bells and whistles of a state-of-the-art facility. In fact, his studio is so high-end that artists such as Radiohead, Beck and Depeche Mode have all graced it with their presence.
In addition to recording musical artists, the Grammy-nominated recording artist also works with film and television. In September, he was one of three finalists at the Jackson Hole Wildlife Film Festival for his sound design in the film "Hot Tuna."
He recently worked on the upcoming film "Shadow Recruit," starring Kevin Costner, and the Showtime series "Californiacation."
"These actors tend to live in our community," said Camardella. "They go on location to film and when they come back there are things that need fixing, so the studios rely on us."
His studio is equipped with a high technology interconnect that allows Camardella to connect his studio to any other in the world with the same high-end technology.
The philosophy behind his studio is for artists to come and enjoy Santa Barbara and not have to compromise on sound.
"I've not spared any expense to have world-class, as far as equipment, environment and sound, so that the attraction is Santa Barbara," he said.
Although, Camardella explained, technology can only take you so far.
"You can have all the best equipment in the world, but if you don't have the ear it doesn't mean anything."
Camardella has been teaching at City College for almost 15 years, and during those years, 4-year universities have accepted recording arts as a degree.
"The world has realized that it is a legitimate and realistic career path," Camardella said.
He has had students transfer to USC and NYU, and has a former student currently working as a sound technician for "The Eagles."
"I take teaching very seriously, in the sense that I want to share experience, knowledge and help lay down the foundation of guidance. There is a lot of 'no no no you can't do that' in the world and somebody's got to be there saying 'yes you can'," Camardella said.
Although he teaches a music class, students in film production enroll for help with film audio. Since film is not an area the class focuses on, Camardella offers credited internships. Students get to work at his Santa Barbara Sound Design studio and receive more personal guidance in their area.
Camardella's love for music can be traced back to his early childhood in Bronx, New York. By third-grade he was taking piano lessons and playing the family accordion.
For high school, he attended Fordham Preparatory School, where his Jesuit priest teachers taught him discipline and focus, while encouraging his musical talents.
"I think those four years in high school, where teachers took no bologna, did a lot for my life," said Camardella.
When the priest found out that he had a gift for music, they embraced it. He would play bass guitar and keyboard for school plays and dances, and other local gigs.
He says his highlight in high school was when he performed for the school "family night." One of the Jesuit priests dressed up as Jim Morrison and together they played a "Doors" song.
"It was through their nurturing that I kept on my music in a new direction, a more contemporary direction," he said.
Zach Wallace, a music major and current student of Camardella's recorded at his studio a year ago.
"It is super expensive but it's really quality production, and he brings that to this class," said Wallace. "You feel like you're working with a professional, yet you're at City College."
After all the 63-year-old and father of three has accomplished, Camardella's next goal is to write a book, "A book that capsulizes my philosophy in a read that might be fun."