Time-lapse highlights artistic talents of SBCC doodlers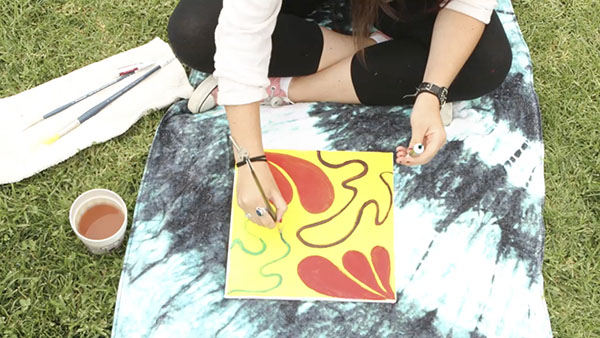 Journey Coward, Ani Harbottle and RJ Cason are three of many City College students that use doodling to express themselves. Coward, who produces artwork on metal sheets and Harbottle, who creates colorful acrylic designs are both people to look for on campus. Cason is the cynical pen and paper artist whose drawings will make anyone laugh. All three students have an individual style but their passion for drawing is quite similar.
Journey Coward
As he jams out to the famous Otis Redding song, "Sitting on the Dock of the Bay," first year City College student, Journey Coward, dives into a deeper consciousness as his marker starts moving across the blank canvas.
Coward has been drawing since fifth grade and is inspired by artists such as Banksy, the England-based muralist, who has helped him progress as an artist.
Coward uses a variety of sharpies and markers to create cartoonish, psychedelic artwork before it is printed on metal sheets that will last 150 years in good condition.
Starting with curves and squiggly lines, Coward's process is unconventional compared to many others.
"I trace my imagination," said Coward. "I can see it in my mind."
One of Coward's most time consuming and emotional pieces, entitled "Heartless," consists of three tough life challenges. One surrounds his dog, Marley Ocho Coward, who was hit by a truck in 2009 after trying to return home to him after being given away without him knowing.
"She was the inspiration behind that piece," said Coward.
Subliminal messages are frequently hidden within Coward's work, including the words "R.I.P. 8," for his best friend Marley.
With goals of being a children's art therapist and a T-shirt designer, Coward is avidly working to improve and evolve his work. Coward hopes that kids will be able to use his style of art as a way of expressing emotions and a way to deal with difficult situations.
For more about Journey Coward, visit his online store freaklikemeclothing.com
Ani Harbottle
With vibrant purple and blue streaks throughout her long dark hair, Ani Harbottle seems like a walking image of her own artwork. The 20-year-old City College student creates abstract designs with acrylic paint on stretched canvases.
Harbottle, the former Orange County resident, has been painting since age ten. Her inspiration stems from the everyday occurrences in her life and she appreciates the work of famous painters, such as Georgia O'Keeffe.
Abstract images and bright colors fit on Harbottle's canvas by working in one corner and sprawling out until the painting is full of green, yellow and ocean blues morphed shapes and designs.
"Some people tell me that it looks like cells," said Harbottle, laughing.
Journaling and yoga are some other activities she enjoys in her life but painting is her outlet.
"I am a very visual person," Harbottle says. "Maybe I get it from my mom."
Harbottle feels very appreciative to have learned creative skills from her mom, a jewelry designer and an inquisitive mind from her dad, a lawyer.
Although Harbottle is not taking any art classes at SBCC, she is studying for a degree in communications.
As to why she is not studying art, Harbottle said, "I don't want to have to do something, I want to want to do something."
RJ Cason
Expert in-class doodler Raymond Cason draws more than your typical T-Rex. Fine tip black pens and notebook paper are enough for Cason's mind to wander off into his own universe.
Ojai native and music enthusiast, Cason also likes to make people laugh.
"There is a high level of comedy in my doodles," said Cason.
Originating animals and monsters is a specialty of Cason's, who tends to just follow his pen as dark ink spreads across the page.
"I started drawing in second grade. I would draw pages and pages of sequential comics about monsters and hide them under my dresser," said Cason.
One cartoon doodle Cason created is a shark and squid battling in the ocean. To make it more his style, he added a T-Rex struggling to swim in the background.
"That's my style," said Cason. "Turning one thing into something else that makes people laugh is something I really enjoy."
With a major in graphic design, he hopes to eventually get paid to create art.
One of Cason's favorite doodles, "Battery Acid," features blown-out letters that have a personality of their own, including a dismantled snare drum being slapped by a rabbit who is bursting out of a larger drum.
Cason's notebooks are filled of cartoon drawings and sophisticated lettering but never to be taken too seriously.
The sarcastic and creative doodler is also interested in political science and anthropology but art is Cason's main focus.