Baseball coach joins full-time faculty after 6 years of teaching
The scent of the salty ocean air compliments the freshly cut grass at Pershing Park, as the crack of the baseball bat echoes while players are scattered around the diamond during a live batting practice session.
Jeff Walker, City College head baseball coach and newly hired full-time staff member stands staunch on the third baseline sporting his usual practice attire of athletic shorts, a City College baseball shirt and an oversized straw hat.
"Rotate!" he shouts as the players in the batting cages come shuffling in for their turn on the field.
"I've always [known] I wanted to coach," said Walker. "I've got a stronger passion for teaching and coaching than I do for baseball, as funny as that sounds."
Walker, who has been at the college for six years, was recently hired as a full-time faculty member. He now teaches weightlifting classes at City College.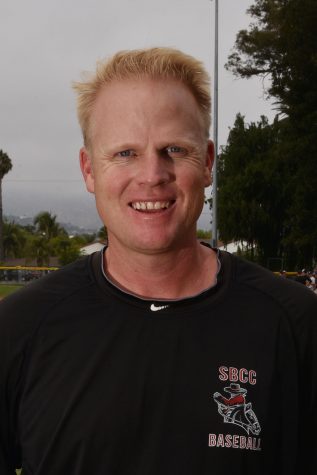 "Being a full-time faculty member is something I'm very proud of," said Walker. "Having that opportunity to serve more students in a diverse setting, rather than just student-athletes, is exciting."
Walker was the baseball coach and athletic director at Saratoga High School from 2002 to 2006 and in 2005 he was named the Athletic Director of the Year for the Central Coast Section for his job organizing the fundraising and development of athletic fields at the school.
"He's got a lot of knowledge of the game," said Dylan McBirney, a sophomore pitcher. "He's got a lot of experience and he has a great way of connecting with the players."
Walker was an assistant coach at Ohlone College for two seasons where the team led the state in stolen bases during his tenure. After that he spent the summer of 2009 coaching in the Alaska Baseball League, a well-known amateur collegiate league whose alumni include Major League Baseball legends like Barry Bonds and Mark McGwire.
Before coming to the City College in 2012 Walker spent three seasons as an assistant coach at Loyola Marymount University. Walker earned All-Conference honors playing for the Lions in 2000 and helped the team earn the sixth spot in the National Rankings.
"He puts our team to work," said Zach Harrison, a freshman outfielder. "He's focused on excelling and, quite honestly, winning."
In his first season with the Vaqueros, Walker lead the team to a Western State Conference North title as well as earning North Coach of the Year honors. Since then he has lead the Vaqueros to five straight SoCal Regional appearances and two Western State Conference North titles, as well as finishing both the 2014 and 2015 season ranked fifth in the state.
Practice has ended and Walker sits on the bleachers behind home plate, his straw hat now hangs around his neck revealing his bleach blonde hair as he gazes out into the field and reflects on what the game of baseball has done for him.
"It's created so many opportunities for me in both my personal and professional life and it's also taken me a lot of places around the country," Walker said. "A lot of my life long friends I've met through baseball. I actually met my wife through baseball, so you could say it's taken care of me."
Although he already boasts a track record of many great accomplishments, Walker is excited for his new opportunity to grow as a mentor.
"I'm looking forward to continuing my career and passion by teaching and coaching," he added. "And having the ability to do it in Santa Barbara­, it's like winning the lottery."