Mora's goal in the 89th minute lifts City College to a 1-0 win
The Vaqueros men's soccer team remains undefeated after Tuesday night, defeating El Camino-Compton Center Tartars 1-0 with a shutout during Santa Barbara City College's home opener at La Playa Stadium.
For a majority of the game, the Vaqueros dominated Compton by keeping the ball in Tartars territory. The first shot from the Tartars came in the 26th minute. City College outshot the Tartars 17-3, of those, eight shots were on the goal compared to just one from the Tartars. The Vaqueros also had a large advantage with 10 corner kicks against just three from Compton.
"We need to work on finishing," said sophomore midfielder Jonathan Mora (No. 2) of City College. "We had 17 shots and only one goal."
That one goal came from Santa Barbara native Mora in the 89th minute of regulation play after a Compton defender blocked a corner kick from City College midfielder Aaron Aaberg (No. 8).
"Someone had to score," Mora said, "I'm glad it was me."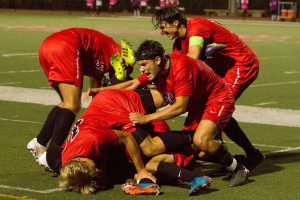 This was sophomore Mora's first goal of the season. He started every game last season and finished with 5 goals.
The City College soccer team is currently ranked 12th  in the state along with Lassen College.  City College is undefeated with a record of 3-0. The Vaqueros have allowed only two goals while they have scored six so far this season. Tuesday's shutout was their second straight after blanking Taft College on Tuesday, Sept. 1.
"We could have played better," said City College sophomore midfielder Kebba Nyang (No. 11), "we've played better teams and have done better against them."
During the very physical second half, a Compton player was injured and had to be assisted off the field after a collision between three players. Compton also collected a yellow card in the 74th minute and a second one in the 81st minute. Due to the amount of penalties there was an additional six minutes of stoppage time added at the end of regulation play.
The Vaqueros had a lot of good opportunities to score but couldn't manage to get goals due to good defense by the Compton goalkeeper. There were several good shots, including one by City College sophomore Mirza Dizdarevic (No. 15) in the 11th minute that was tipped over the goal post by Compton goalie Ricardo Vasquez (No. 1).
"We played as a team," said Nyang, "we finished with the win."
Tuesday's game was the beginning of a four game home stand.  The next game will be at La Playa Stadium on Friday, Sept. 11, against 3-1 Palomar College.