Out of Africa: Soccer player Davies Kabogoza walks hard road to America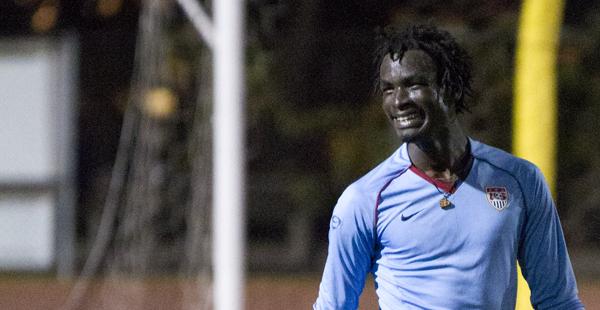 Dan Nelson, Sports Editor
April 11, 2012
It took Davies Kabogoza seven hours to walk from his Ugandan village to the American Embassy. He wore a raggedy Manchester United soccer jersey, black shorts, and six-year-old shoes too small for his feet.
No one in his village knew the way. So with poor directions and no pen or paper, his eight-mile journey lasted all night.
"My story is a world and in a world, many things happen," Kabogoza said. "We get to be places that we never dreamed of being, and that's my story."
Eventually, Kabogoza's odyssey took him to Santa Barbara, where he is a standout forward for the men's soccer team.
"He's definitely got the potential to move on and play at the next level," said head coach John Sisterson, whom Kabogoza now considers a "second father."
Kabogoza's real father abandoned his family when he was young, so the 21-year-old worked for next to nothing to provide for his family, one of the poorest in his village.
He started working in a forest about 30 minutes from his village when he was 15. He carried loads of timber, often 50 pounds, on his back.
He worked up to 12 hours a day for 1,000 Ugandan schillings, the equivalent of 40 cents in U.S. currency.
The money wasn't guaranteed.
"They say, 'because you need a job, you come back tomorrow,'" Kabogoza said. "I go, finish, and all day you're expecting to get some money—and they tell you they don't have enough money today.
"'We'll give you [money] tomorrow' they say, and then they don't give it to you tomorrow, either."
At 16, he quit school to work full time.
"I realize that me going to school is definitely a good thing, but that just benefits me," Kabogoza said. "My family looking at me starving to death when I'm in school didn't make any sense."
He lived in a one-room house with his mother, Agnes Mubanda, two younger brothers, and his younger sister.
"My mom had one dress her whole life," Kabogoza said. "She put on that dress every single day. I used to ask myself, 'How does she clean it?' until one night, I couldn't sleep.
"Deep in the night, everyone is asleep, and my mom is walking over us to go outside. I wondered what she was doing? I found her outside cleaning her dress, and she was crying."
Mubanda snuck out of the house every night to clean the purple-and-white-striped dress in a basin of water. The next day, she told Kabogoza that she didn't want to "embarrass" her children.
"I cried also because I couldn't believe it…it was a moment I will never forget," Kabogoza said.
Kabogoza said his father left when he was 5 and has resisted his son's attempts to reconnect.
"It's common for African fathers to really run from the responsibility of their kids," Kabogoza said. "They always think that mothers have full responsibility of the kids.
"Once [the fathers] realize that they can't do it anymore, they throw away everything and go start somewhere else."
Kabogoza finished his high school equivalency at 18—right around the time he joined the Sports Outreach Institute. The institute brings members of the Christian community together to help impoverished countries through athletics, job-training, and biblical teachings.
Vicky Harbison is a blond-haired eloquent Santa Barbara philanthropist who was in Uganda with the institute. She met Kabogoza on a bus trip to Northern Uganda.
On that trip, they witnessed the oppression of Joseph Kony's Lord's Resistance Army. Kabogoza was shocked by the devastation. The circumstances hadn't been as grave in his village.
"I'm crying all the time back home about how I'm really suffering, and I'm going through so much stuff in my life," Kabogoza said. "I see these kids; six years, seven years, four years. They say they have no one, all killed by the rebels. Their sisters were raped and killed. Their older brothers were taken."
Kabogoza and Harbison became friends during the eventful bus ride.
Between games, Kabogoza spoke in front of "huge crowds" to advocate abstinence because of the HIV epidemic in Africa, Harbison said.
"I saw leadership skills in him and I saw compassion for his people," she added. "…You've got to be darn brave to stand up and not be afraid to say that."
She flew back to America two-and-a-half weeks later.
"All the way home on the plane, I kept thinking, 'What is our response as Americans?'" she said. "Do we say [Uganda] is our government's problem. Do we say, 'It's not my problem?'"
Answering her own question, Harbison decided to pay for Kabogoza's passport, visa, and first-class ticket to Los Angeles so that he could continue his education in America.
Kabogoza's mother received a call from Harbison, instructing him to check his e-mail for details. Kabogoza walked three hours to the closest place with Internet.
It cost 2,000 Ugandan schillings—two days pay—to access the Internet for 15 minutes.
Harbison's e-mail gave him all the information about his visa appointment at the American Embassy.
He arrived at the embassy four hours early, slept on a wooden bench outside until it opened, got his visa the same day, then walked home in a heavy rain.
He packed his few belongings and rode three hours in the back of a pickup truck with his family to Entebbe International Airport on Dec. 29, 2010.
"By this time, I really knew I was leaving my family," Kabogoza said. "I was so emotional."
He hasn't been back since.
"It felt like the beginning of a new life for everyone," Kabogoza said. "It was a day where [my family] was happy for me and a little sad because I was leaving. They were saying that this was going to be big for all of us."
Harbison said she spent about $20,000 getting Kabogoza a passport, visa, ticket, and setting him up in Santa Barbara.
She fears the easy living of Southern California will spoil Kabogoza.
"I hate to say it, but I hope our culture hasn't weakened him in terms of loving fun more than his people," Harbison said. "He will say it hasn't, but I worry because we have so much here, and it can be such a stronghold."
She hopes that one day, Kabogoza will return to Uganda to help his people.
So far, those who know him say Kabogoza is anything but spoiled.
He has worked hard to earn a slot on the Vaquero soccer squad, which won third-place in the state among two-year colleges last season.
Coach Sisterson has been patient with Kabogoza's development.
"He's very athletic," Sisterson said. "We decided to play him as a striker. Low and behold, he scored three goals in his first training session."
Kabogoza vows to "definitely return" to the team next fall.
Just over a year has gone by since Kabogoza flew out of Entebbe International Airport. Time will tell what next year has in store.
Editor's Note: This article was originally published April 11, 2012.