The sweet scent of homemade candles and desserts filled the air at the Sustainability Festival on Friday, April 21 at the West Campus lawn.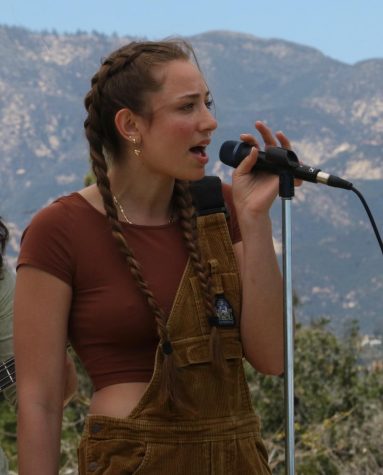 The City College honors program hosted this event in hopes to promote sustainability in the community and offer a space for small businesses to shine.
The campus event hosted City College musicians and local businesses who sold their products to attendees. Sarah Do, co-president of the honors program and the brain behind this event explained she was inspired to create the festival by her own small business she runs with her younger sister Rosie called Upcycle by Do. She also wanted to create a sense of community where she felt it was lacking.
"City College kind of lacks community sometimes. With so many commuter students, you come to school and you go home," Do said. "I wanted to be able to have something on campus where everyone could come and connect and celebrate earth week and sustainability."
Story continues below advertisement
She explained that through her months of effort and complicated planning, she aspires to inspire sustainability in every student. Do also expressed her desire to support local businesses and artists through this event. 
"I have a small business and I think exposure like this is so good for the community and I just wanted to be able to highlight what students do outside of school. And I wanted to have live music; I know there are a lot of bands out there and I wanted to give them a platform," Do said, pausing to hug various friends and attendees before they left. 
Atziry Mendoza sat at a table filled with homemade treats such as tres leches cake and fresh strawberries and cream. She was promoting Deleites Para Tu Paladar, a food service business she and her mom started in February. 
As she described her business and the variety of food she makes, hungry event-goers continuously came by to indulge in a sweet treat. Mendoza smiled warmly at her supporters. She explained that sustainability is a big factor for her business–they don't use any artificial coloring and only sell what they would eat themselves. While she carried on handing her carefully crafted creations out, she expressed gratitude for the opportunity of the festival and hoped that it would happen again. 
"What's more important to us is how we satisfy the community. It's not about what we gain. What matters is that we have this time," the young baker said. "It's so nice to be out here away from our phones, it's honestly so beautiful."
To contact or place an order with Mendoza visit her business' Instagram @Deleitesparatupaladar.
Other stands encouraged sustainable practices such as thrifting and clothes swapping instead of buying into fast fashion. Four City College students sold their own clothes for prices ranging from $5 to $25 and were willing to negotiate with customers. Associated Student Government Commissioner Lexa Welch stood behind neat piles of old denim and lace tops and explained what sustainability meant to her.
"It's really important for people to be more aware of what they contribute to the world and the environment," Welch said. "It's about making sure how you reflect on living your life and even simple things like recycling can make such a difference."
The City College musicians who performed at the celebration included Sarah Pierce, Divya Ramesh, Terry Tang, Chatterbox, and Helios Jazz. Divya Ramesh, co-president of the honors program and contributor to the event, performed a few songs accompanied by an acoustic guitar and vocals by Tang. Tang explained that he was grateful for this opportunity as it was one of his first live performances.
Tang, Mendoza, Do, and attendees all expressed hope that this event would take place again and there would be another opportunity to highlight small businesses and sustainable practices on campus. Do communicated her strong desire for the people who will be in her position next year to hold events like this regularly. 
"The festival could not have gone better. The community at City College is unmatched. They give me energy," the ambitious event planner said. "Even after the event had ended, people from the crowd helped us fold up tables, recycle signs and boxes, and just offer a helping hand and I could not be more grateful."