The aging of the baby-boomer generation has led to increased development of dementia, and City College is preparing students for the demand with the new Memory Care Program.
This semester, two new courses with focus on memory care and compassionate communication were introduced to the nursing department and together form the new program.
Nursing Assistant Professor Michelle Lehne believes it is the clinical component that makes this program unique, where students get to work with elder patients who suffer from dementia.
"The students are going to be doing lots of hands-on interacting and learn how to communicate with these individuals," Lehne said. "We are going to see more and more people with dementia, because people are living longer."
Story continues below advertisement
According to the Bureau of Labor Statistics, the employment of home health aides is predicted to grow 48 percent between 2012 and 2022. This is why more qualitative education is needed.
The students of the program have been to seven different memory care facilities in California, and received very good feedback on their treatment so far.
"These facilities are observing our approaches and have actually asked us how we manage to apply them so good," Lehne said. "Hopefully, what they see us do will rub off on them."
According to the Alzheimer's Association two million people in the U.S. of the age 85 and older suffer from Alzheimer's disease today. Due to the progressive aging of the baby-boomer generation there could be as many as 7 million in 2050.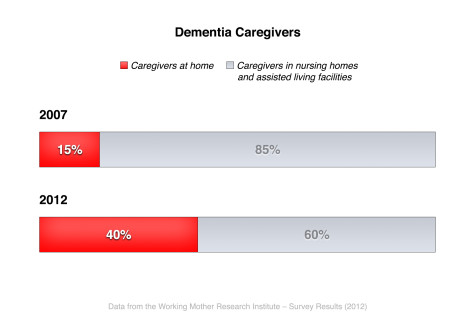 Antony Marchiando
Working with memory care today does not necessarily require any education at all. This is why the quality of the treatment has a risk of becoming more quantitative in the future, as a result of denial.
"If attention can be brought to the issue sooner, there is a better chance of improving the situation," said Ann-Marie Kopeikin, the founder of the program. "Denial gets reduced through education."
The nursing program is participating in "The Alzheimer's walk" of Santa Barbara in order to raise awareness on the difficulties patients with dementia face.
"Even people that work out in the public should have some idea of how to care for these individuals, because they are going to be seeing them out there," Lehne said. "People have a tendency to ignore these people."
According to the Alzheimer's disease curriculum, treating people suffering from dementia can lead to increased stress and frustration. In 2012 they carried out an investigation, which showed that 61 percent of family caregivers rated their emotional stress as "very high." This can lead to denial of the diseased elders, and leave them in isolation. This is what the new Memory Care Program is trying to improve.
"At one of the facilities we had sixteen residents that were just like a little family," said Trish Remlan, nursing student in the Memory Care Program. "The memory care facilities have to make them feel that they are a family, and that they are not on their own."
Developing memory problems has long been considered a natural component of growing old. Knowing if an elder family member has developed dementia can sometimes be hard to notice, and the Memory Care Program is trying to reach out and help confused families.
"Our caregivers are getting educated about dementia in a way that they have never understood before," Kopeikin said. "We've treated our parents and grandparents. But we didn't understand how we should have been dealing with them."