City College has welcomed LaDeane Hansten as the first female athletic director as of Friday, July 1. 
City College has been without an athletic director for quite some time and LaDeane Hansten is here to bring the athletic program all of the success it deserves. 
Hansten was a community college student herself at Columbia College and earned her master's in sports science with an emphasis in sports management. She also has a bachelor's in physical science in physical education from Cal Poly.
Hansten is very enthusiastic about the athletes of City College, "I'm their number one fan. It's my dream job watching everyone compete," she said. 
Story continues below advertisement
Hansten is responsible for keeping the morale of all sports teams high. Hansten said she is dedicated to having non-student athletes and members of the community come out and support the athletes.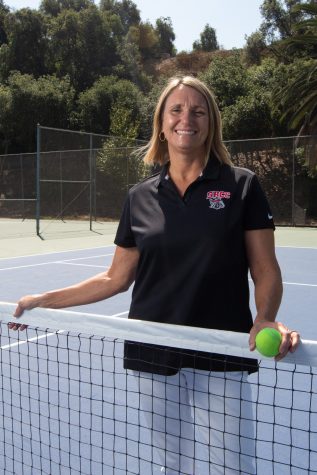 Ellen O'Connor, professor of physical health and education at City College, has been working with Hansten since she joined City College. 
"She came in and hit the ground running," O'Connor said. She expressed her gratitude for how much Hansten has already done for athletic programs and applauds her for being the first female athletic director in Vaquero history. 
Hansten was the athletic director of Columbia College in Sonora, California. She's been surrounded by sports her whole life and loved to swim and watch sports games. 
After a couple of years studying at Columbia College she was uncertain what her future held. She knew that she loved sports and being around an athletic community which led her to the position she is in now.
Hansten hopes to understand how City College is run before she implements new ideas and rules. "I'm trying to learn the personality of the college first before making any large decisions," Hansten said. 
Interim Superintendent and President Kindred Murillo hired Hansten to be the new athletic director.  
"I'm feeling really good about LaDeane, and the reason being is that she is the most enthusiastic athletic director I think I have ever met," Murillo said. 
When asked about Hansten, Murillo had only positive words to describe her. Murillo said she has all of the confidence that Hansten is the most fit for this job and believes she can lead the Vaqueros to be successful athletes and scholars. 
"I'm extremely happy that we had someone that applied with the level of expertise she has," Murrillo said.