City College student starts online shop with unconventional jewelry
Crafting jewelry started as a hobby for City College student Solé Machart, but after one summer night she decided to make it her side business. 
"Out of the blue, my boyfriend's brother's girlfriend brought her jewelry stuff one night," she said.
In the middle of the pandemic, the 21-year-old decided that her side-project would become a small business.
"It's more of a side thing that happened," Machart said, "Then I saw that people actually liked my stuff and I was like "Oh wow."
During her free time in the summer Vibrant Sunshine was created, a reference to her name which translates to "sun."
Machart is a second year Sociology student at City College. Her asynchronous class schedule helps her manage her time for school, homework and her crafting.
"I gave myself a couple assignments a day and after when I'm done, I make [jewelry]," Machart said.
Most of the jewelry making is in the crafty hands of Machart, while her boyfriend lends his help on the "simpler, tedious" things, such as organizing the different beads, materials and product displays.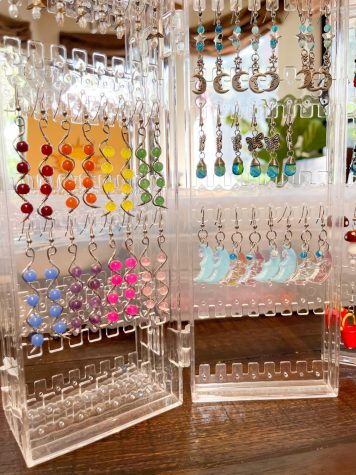 "Eventually I was just a full fledged assistant, I helped her design them or offer up my opinion," UCSB alumni Mateo Ochoa said. "It's her thing, she has all the visions."
Machart has some unconventional designs.
"That is her real brain child, I really like the wired ones," Ochoa said. "The clouds and butterfly ones—ducks and dinos."
Her wire cloud and butterfly earrings are just some of the ones she twisted and tightened from her own creations. She mostly sells on her Etsy shop where she has made over 100 sales, with half coming from her online store.
While just selling online slows down, she has started to sell at the EOS Lounge in Santa Barbara every third Sunday of the month. 
She also has sales and takes on custom orders through her instagram @vibrant.sunshine. She has designs for all holidays and even fulfills custom orders.
The custom USC earrings and Avatar earrings along with other custom orders are what inspire her to continue her work.
"Taking something that really shouldn't be an earring and putting it on someone's ear is really cool," Ochoa said.