Santa Barbara's "cat cafe" offers alternative study experience
Santa Barbara college students now have access to Cat Therapy, a place where students can go and study, not only with a study group, but with cats.

"Many students have strict landlords or rules and aren't able to have a cat at home, so it gives them a place where they can have coffee and cats around," said Catalina Esteves, Cat Therapy owner.
The new cat cafe is located in downtown Santa Barbara and allows students to hang out with cats that have been rescued from local shelters. Cat Therapy's goal is to help save more cats from euthanasia, and raise adoption rates locally.

There are usually 13 to 18 cats hanging out in the cafe, and most of them are either sleeping on the carpet, playing with a toy, or lying on a student's lap. Students can sit anywhere they like, and the tables are arranged for individuals and small study groups.
The cafe helps cats and future cat-owners establish rapport, and helps students who need furry friends to motivate them for their next exam.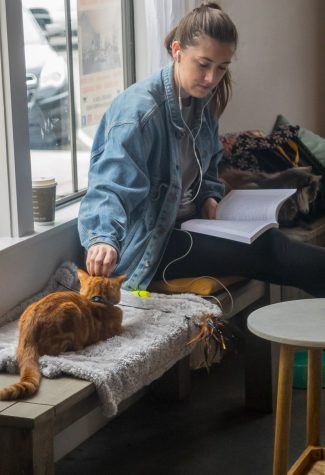 It's  harder for cats to get adopted than it is for dogs, which is why Esteves decided to open the cafe. It's an easier way to get to know each cat, rather than going to a shelter and seeing them in a cage. The special connections people make create a higher chance of adopting.
Petting animals is also known to lower anxiety and stress. Most students that come in look for a comfortable area where they can focus on their studies. They have the option to get up anytime and play with the cats, and then go back to where they left off.
UCSB student Maddy Shulman heard about Cat Therapy on campus, and wanted to experience something new so she visited the cafe.
"I love cats, and thought it would be fun," Shulman said.
The cats at the cafe all have a collar of a specific color to distinguish their personality and gender. The collars give students a better idea of what kind of cat they may be interacting with.

Cat Therapy has given students a unique way to study instead of going to a Starbucks or local coffee shop.
The cafe is located on 1213 State St Suite L. Students can book co-study on Mondays and Tuesdays for $15. They can also join for an hour, book private events, or take part in cat yoga on Sundays.