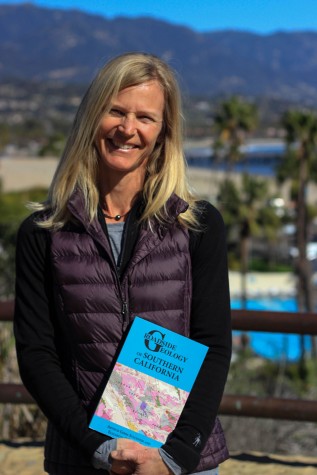 Elizabeth Gans is an administrative assistant* in the Earth sciences department at City College and the illustrator for the new book, "Roadside Geology of Southern California."
The process of gathering data and setting up geological surveys for this book began three years ago after Mountain Press Publishing signed a contract with author Arthur Gibbs Sylvester, whom Gans believes was the right person for the job.
"It's really complicated," Gans said. "It's a huge area and there's a lot of highways. They needed the right person who has had a lot of exposure to the geology in Southern California."
Sylvester is a retired earth science professor, who taught at UCSB. Gans and Sylvester have worked on a number of projects together since they met and when it came time to start mapping, she said he knew who to go to.
Story continues below advertisement
Until now, the geological community did not have an edition to cover the Southern California area in its book series. Now Gans and Sylvester have filled that gap with a book full of color photos, 84 geological maps and insight into the active landscape of this area.
Gans enjoys the earth sciences for the sense of revelation it gives her about the world.
"The part of geology that I love is it's beautiful," she said. "It's stunningly gorgeous, it's totally artistically satisfying."
While working with geologist James Boles, Gans helped document some activity that became a huge news story last June. Boles discovered helium gas leaking from the Newport-Inglewood fault zone and learned that depth of the fault was much greater than what was previously understood.
A surge of headlines and stories in the news followed, splashing warnings of explosive helium gas and pictures of earthquakes along with Gans' own geological illustrations.
"They turned it immediately into a death and doomsday prediction," Gans said.
Superintendent-President Lori Gaskin, known for her passion for earth sciences, holds two degrees in geography from UCLA and has taught geography and geology. Excited by the new book, Gaskin expressed her pride in what Gans has accomplished by contributing to the missing link in the series and was enthusiastic about getting a copy as soon as possible.
The book will be featured at a conference for the National Association of Geoscience Teachers at City College in April.
Chaucer's Bookstore will be hosting a book signing at 7 p.m. on March 8. Gans and Sylvester will be there to talk about geology and share their experiences documenting the geology of southern California.
*Editor's Note: A previous version of this article incorrectly stated that Elizabeth Gans was a lab assistant, not an administrative assistant. We apologize for any confusion.