SBCC screening highlights culture of sexual assault
City College students will get the opportunity to attend a free screening of the documentary "The Hunting Ground," which is about sexual assault on college campuses.
The screening starts at 11 a.m. Tuesday, Oct. 27 in the Garvin Theatre and will be followed by a panel discussion to discuss the issues of sexual assault raised in the documentary.
"A reported 25 percent of all women are sexually violated on college campuses," said Betsy Phillips, bilingual licensed clinical social worker at City College. "And that number is probably really grossly under reported."
The Feminist Club, Student Health Services and the Santa Barbara Rape Crisis center are working together to put on the event for students. The apartment complex Beach City also had a screening of the documentary earlier this month.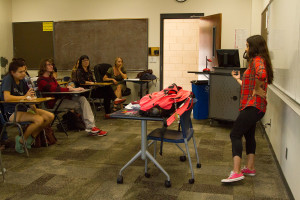 The panel at the event will feature Assembly Member Das Williams, Alyson Bostwick, marriage and family therapist, Ben Partee, dean of educational programs, and District Attorney Joyce Dudley, who will answer questions that the students pose after watching the documentary.
"I think that the movie will be empowering for victims, and to attend the panel discussion," Phillips said. "That panel is really important to hear how people in power are responding or not responding."
The documentary explores sexual assaults on college campuses nationwide and what the administrators of the colleges do, or do not do in response to these crimes. The movie also discusses cover-ups from administrations on campuses and the harassment victims face after they have been assaulted.
"I mean we definitely can do more and I think it is nice to see that we're starting to do those workshops," said Asiel Al-Aas, a Feminist Club leader. "It's never too late, but I think we need to do more of it, just talking about it. Even on this campus we don't talk about it enough."
According to the movie, one in five women in college will be sexually assaulted and one in 33 men. However, only five percent of college campus assaults are reported.
In some cases punishments from the universities for students convicted of sexual assault were minor, including a one-day to a week suspension or an official warning.
"I hope we can educate the administration, faculty, and staff how to respond to these situations in a better way," said Roxane Pate, program adviser for City College Connect.
Phillips explained that "everyone is dealing with this issue" and that there are victims and perpetrators walking around on college campuses across the country and people aren't talking about it, which is why the showing of this film is so important.
"I want students to know they are not alone if they face situations like this," Pate said. "And I really, really hope that we can instill a sense of responsibility."