The Santa Barbara South Coast Chamber of Commerce invites everyone to join in celebrating the 30th anniversary of the Goleta Lemon Festival on Saturday, Sept. 30 and Sunday, Oct. 1 at Girsh Park.
The Goleta Lemon Festival celebrates the long history and role that lemon agriculture has had in the region.What began around 1875, with the first planting of a lemon orchard in Goleta's Rancho La Patera, has now evolved into the largest community event held on the Goleta coast.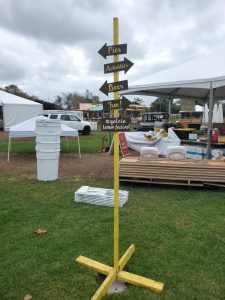 With free admission and parking, it is college student friendly and festival goers throughout the weekend can enjoy live music, food and drink, vendors, and a variety of activities and entertainment. Activities include the Kids Zone, a classic car show held on Saturday, the ExxonMobil Safety Street, pie eating contests and more. 
American Riviera Bank Main Stage 
Performances and entertainment from local artists are both on Saturday and Sunday, such as the 192's band, dedicated to keeping the music of the Grateful Dead alive. Additionally, a pie eating contest is held both days.
Story continues below advertisement
On Saturday, Santa Barbara Honda is sponsoring residents as they showcase a range of classic cars, motorcycles, and bicycles. 
The Kids Zone
The Santa Barbara Airport is sponsoring an experience for all ages. Activities include archery tag, bubble fun, zorb ball, wipeout, rock wall, mini golf and much more. 
Exxonmobil Safety Street 
Safety Street is the largest interactive display of fire, police, and emergency services in the county. Festival goers are invited to meet the sheriff's mounted enforcement unit and several sheriff K-9 teams. Participants can take a photo with Smokey the Bear, and are encouraged to check out other Safety Street booths such as US Forest Service, American Red Cross, Santa Barbara County Fire Safe Council.