The Santa Barbara International Film Festival honored aspiring filmmaking-students at their annual 10-10-10 mentorship and competition on Saturday, Feb. 18.
10-10-10 is a five-month long program that appoints 10 high school and 10 college students in Santa Barbara through a competitive application process. The selected candidates go on to create 10 films to be screened at the Arlington Theatre for the public. This year's theme challenged students to create a film relevant to issues surrounding climate change. 
"Watching a bunch of young filmmakers create films because they want to create films and because they love it, you know out of passion, that energy really comes through," said Jasper Kerr, a member of the audience.  
The festival awarded four students, each from City College, University of California Santa Barbara (UCSB), Santa Barbara High School (SBHS) and San Marcos High School (SMHS), for their work throughout the competition.
Story continues below advertisement
"I'm just very grateful that every single person in my casting crew made this happen, very grateful, very happy, I'm feeling all the love," said Lauren Bartling, City College representative and director of the student film "Until Morning."
"Until Morning" portrays the life of two teenagers searching for love in a nocturnal-dystopian world, with a twisted, though humorous, ending.
"This was all I was doing for the past five months, literally the only thing I was doing, so it's a great payoff in the end," Bartling said.
Sydney Davidson, actress in the leading role for "Until Morning" and City College student, described her experience with the film. 
"The environment was just really friendly, and I honestly think it was one of the best sets I've been on so far," Davidson said.
Screenwriting for the student film, "Attack of the Macro-Plastic Monster," Shane Rockenstein from UCSB conveyed feelings of disbelief after the ceremony.   
"It was amazing to just be accepted into the program," Rockenstein said.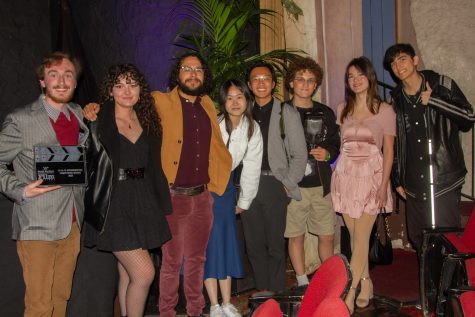 "Attack of the Macro-Plastic Monster" documents the filthy lifestyle of four college roommates within their home. After one of the roommates deliberately spills the other's experimental enzyme onto a pile of trash, a monster develops, causing complete mayhem.
Initially workshopping with two drama-related film ideas, Rockenstein decided to go with this offbeat approach towards a horror comedy.
"I just wrote a script that I was proud of…and made something that I think I was happy with, so just to see that kinda recognized is really amazing, to see that rewarded is really phenomenal," Rockenstein said.
With the program coming to a close, the twenty student filmmakers found themselves basking in the cheers and praise of everyone around them at the Arlington Theatre.
Wrapping up this year's festival, the students await the next assortment of opportunities in their aspiring film careers.
As for the next group of filmmakers who desire to take on the 10-10-10 program, applications open up and run through the fall of this year.