City College's Atkinson Gallery hosted the opening ceremony for the 38th rendition of the "Small Images" exhibition on Wednesday, Feb. 15.
The gallery was packed with clusters of people, all eyes gazing at the vivacious art that adorned its white walls. The looks on their faces said enough. They were deeply moved. 
Art devotees from all around Santa Barbara county gathered to display a piece of art that represented something they were passionate about. The only catch was that their image could be no bigger than 18 inches. 
Artists used a dynamic mixture of mediums such as acrylics, oils, sculpturing, and even embroidery. Whether alluding to a political stance or a personal anecdote, each piece was uniquely crafted to portray a deeper meaning beyond the first impression.
Story continues below advertisement
"[My piece] was a meditative way for me to diffuse my anger," said Colleen Kelly, a local artist and the University of California, Santa Barbara alumni.
Her piece named "The Dichotomy of Laundry: SOS Red" had morse code "obsessively" inscribed onto a piece of red gampi paper in order to symbolize women's suffrage in Iran, the femicide of Indigenous women, and police brutality. It's true what they say- a picture is worth a thousand words. Or in this case, 1,000 issues.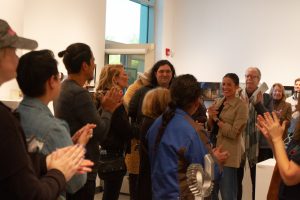 Right beside Kelly's work is "Screen Time Paradox," the piece that won Kevin Clancy a $1,000 prize for securing first place in the exhibition. It features a compilation of sculpted electronics, made from ultracal plaster, that are stacked onto one another. Laid atop each screen is a holographic film to represent the vortex that the media has a tendency to suck people into. 
"It's the search… for perpetual validation and endorphins getting in our way," the UCSB student said. "It's me [wondering] what the maximum amount of screen time is [and] what that distraction is doing to us."
Katya Bloom is one among many artists who uses their craftsmanship as a coping mechanism. Her little clay sculpture of a baby, "In Her Own Words," personifies the perplexed beauty of holding hands with grief. 
"I know by now grief never ends, you never forget," Bloom's description said. "There is such a thing as good grief…I've found [it] can be as comforting as an old sweater."
According to Bloom, her experience was painful but it also strengthened her.
"Just holding my hands like this, I remember her softness," her description said. "You feel it all…and you hold it dearly."
For some people, crafting art is a simple pastime. For others, like Santa Barbara-based art director and UCSB alumni Dug Uyesaka, it is a way of life.
For me, [making art] is part of who I am," said Uyesaka. "It's kind of like breathing."
Uyesaka's piece, "Muted Autumn Jukebox," is presented in a creative disarray of different earth-toned elements like wood, ceramic and rusted metal. He enjoys juxtaposing man-made objects with naturalistic materials in order to create a "mind twist" for observers.
"We stand on the shoulders of the people that support us and it's that energy that keeps me going," Uyesaka said. "It's a constant, life-long learning experience." 
The Small Images Exhibition can be found in the Atkinson Gallery until March 17, and the SBCC Student Sculpture Pop-Up commences on April 3.