Lorde's 'Pure Heroine' perfectly captures the teenage experience
The Channels Art Pages | STAFF SUGGESTION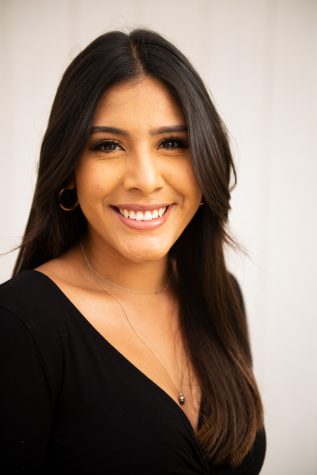 Lorde's debut album, "Pure Heroine," is a piece of art that changed the way music made me feel.
The production, lyrics, clear bass and distinctive beats make the album the perfect soundtrack for driving or hanging out with friends. Released Sept. 17, 2013, "Pure Heroine," is truly about the teenage experience. She sings about gossip and young adults who feel they are growing too old too fast.
The rise of her fame started with her hit single "Royals," which still lives on in my head all these years later.
Listening to Lorde's music makes me feel euphoric. The creative elements she wraps into her art, like electronic sounds or layered vocals, make her songs sound like they're performed in an echo chamber.
As a dancer, my brain is active with the music. I'm able to imagine the potential of her music with movement as I listen to all of the beats that flow through each of her songs.
Lorde sings about aging and the responsibilities that will come as she grows old. This meaning connects to listeners who are at the age where life feels overwhelming and they are moving past the stage of being carefree.
My favorite number is "Ribs," which makes me feel like I'm the main character in a movie. I love its dynamics, rhythms and vocals.
It's steady and freeing to listen to, which makes it the perfect song for dancing.
The song reflects vulnerability and the way teens feel about facing age and responsibilities. It also represents being a teenager and having the time to go out – have fun being with friends – while not having to worry about the consequences that come with having a good time.
"Ribs" is a bittersweet song for me. Being an older sibling, life pushed me to mature at an early age. I wanted to be older and thought I had everything planned out. This song made me realize growing up is a process to be taken day by day. It lets me know I'm not alone when I think growing up is scary.
I was fortunate enough to enjoy the album live when she came to Santa Barbara in October 2014.
It was unlike any other concert I'd been to. The stage design, setlist and the added volume of the music truly made me feel like I was in a whole new world.
The concert was real and raw which resembled her, a very down-to-earth person.
I was mesmerized by her free-spirited dancing and the amount of emotion she put into each song she sang. I was captured by the suspense in the transitions between songs. 
Lights flickered and words appeared on the screen behind her as she would emerge out of the dark.
She also sang "Yellow Flicker Beat," from the Hunger Games soundtrack. However, it was the song I connected with the most.
The song begins with a low hum and builds up throughout the first verse then reaches its peak in the chorus. I remember the lights flashing yellow and orange, Lorde jumping up and down to the drums.
Lorde writes about her personal experience as a teenager, making the song relatable to a younger audience.
As a teenager, her music related to me so much. Every song has meaning and expresses the intimidating realities of being young and inexperienced.
Lorde was able to craft something new and different, wowing fellow acclaimed pop singers such as Miley Cyrus and Katy Perry.
I highly recommend listening to "Pure Heroine," a nostalgic trip through Lorde's electro-pop teenage wild life.