A Year Without War seeks global attention through documentary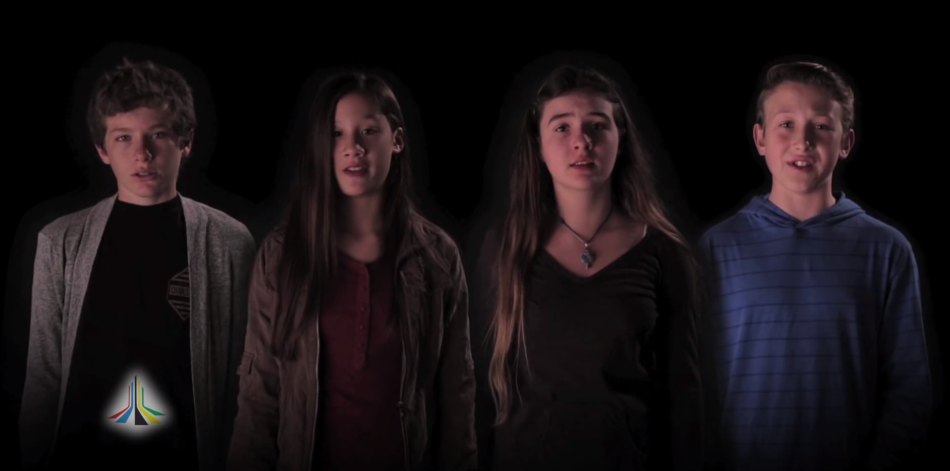 "War what is to good for? Absolutely nothing," rings through the Fè Bland Forum, where five elementary school kids and a City College film crew are taping.
They're keeping their fingers crossed that the video will go viral.
The volunteer group of students and faculty created a short promotional documentary supporting the 2020 A Year Without War project. The preparation took about a month of planning and the filming process took five hours. After a few weeks of editing, it was uploaded to YouTube.
"It is so inspirational to work with so many students who give so much time and talent in their attempt to tip human history," said Dr. Joe White, chair of the philosophy department. "I was very impressed with how talented and how much time these students volunteered to make the film."
The video, "We Are Your Children," is helping in the process of making 2020 one year of cease-fire between countries. This growing concept, established by White, is making waves worldwide.
The new video, posted on the project's website, began with Joakim Svensson, the director and a City College film production student.
After speaking with White in the beginning of last semester, the two started coming up with video ideas, and finally come up with a script. Svensson gathered a team of 18 well-equipped City College students and started the video.
"Everyone was really helpful and supportive. It was easy to get people interested in the project," Svensson said.
The documentary features five children explaining to adults how war effects younger generations and the planet itself. The children talk about how adults have ended natural disasters, but choose to not stop wars.
"We Are Your Children," has been on YouTube for 16 days and has 1,008 views, 19 likes and 99 channel subscribers.
"I'm very happy with the views it has right now but I really think that with a little push we can reach a lot more," Svensson said. "We have gotten really good feedback and people are happy that it's out there."
The original idea that Svensson and White came up with was more complicated than they had imagined.
"It was a very ambitious idea at first," White said.
For the promotional video, they wanted at least one child from each continent to finish the video in their own distinctive languages.
"We found out early on that it would be a lot harder than we expected so an early compromise was made to make sure that the project would actually get done," Svensson said.
After that, the two came up with a different script idea—the finished product on YouTube.
There are future videos in the making to help with A Year Without War, such as a music video by a local hip-hop artist in support of the cause and finally getting to their original promo video idea.