Review: White supremacy, pencils and Dresden dolls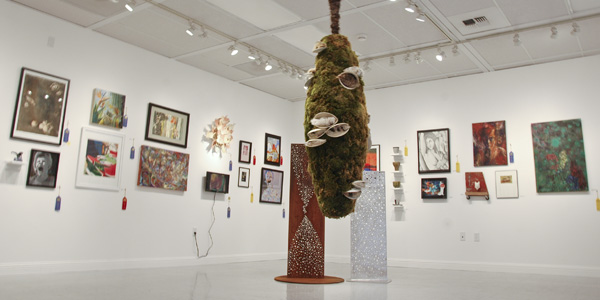 The first artwork that snags your interest at the Student Art Exhibition is a road map of Arizona pinned to the wall with this legend in bold, green lettering:
"WHITE SUPREMACY CAN BE SUBTLE."
The words stretch from the Northern Colorado River to south of Phoenix. Oliver Murray's untitled silkscreen is a wry commentary on racial profiling as a measure to isolate illegal immigrants. Your move, Governor Jan Brewer.
Of 136 student art pieces, 70 of the best were chosen by UCSB art department chair Jane Mulfinger for exhibition in the Atkinson Gallery.
The gallery presents a number of interesting works, sometimes endearing and unconventional, such as Ben Eckert's bronze trophy of major humiliation: sitting on top of a wooden pedestal is a man falling and hitting the ground face first.
Evelyn Contreas created "Portrait of a Student," which vaguely resembles a face from certain angles. Her medium: an inordinate number of pencils crudely sharpened and pointed in the same uniform angle from every failing midterm.
Emy Fargey-Williams carefully crafted a 13-piece ceramic sushi set with a smoke-gray glaze called "Sushi Party." Other ceramic pieces included two vases by Maria Mocksus. "Gravitational Rings" has a round, lopsided top. It gradually gets smaller with grooves that flow down to its black base.
Amber Silva created "Baby Goddess" from found objects and spray paint. A crying baby doll sits on a gallery podium. It has six arms emerging from its torso and three faces. This is what happens when a Dresden doll is immersed in toxic waste.
Two pieces of art imitate clothing that would be uncomfortable garments: Chaoyi Macpherson created a corset fashioned from twisted copper wire. Across the wall hangs a jacket made from a wired fence, complete with buttons and cuff links.
A series of small photographs from Kathi Scarminach won the Juror's Award. The photos have a high contrast (both in composition and context.) The set of photos begins with a shot of a mouth with sporadic teeth pegged in, and ends with a close-up on a lobotomized doll's face. Scarminach created this story in seven starkly different photos called "santeria.cuba.ismael."
Easily one of the best two-dimensional pieces in the gallery is "In Limbo #2" by Egor Sapov. Sapov drew how it feels to be idly stationed in the waiting room of limbo. Two monsters with eyes with opaque cataracts stare at you and play a keyboard while a cube-shaped television plays white noise and static. Limbo does not get great cable reception.
Emilia Dattilo's "Shadow's Existence" is a project of silkscreened and cut paper hands collage together in a wreath on the wall. Each hand projects a shadow puppet on the wall behind it.
Below this is Oliver Murray's super profound "Spark," the gallery's only video piece. A TV plays a brief one minute and fifteen second video of snap cuts, including close-ups of eyes blinking, a lighter flicking, two pairs of lips meeting, and a fist squeezing a foam heart. This probably goes to prove something, from the same artist who silkscreened the map of Arizona, but I just don't know what.
There you have it, a few of the best of the hand-selected pieces of this year's exhibition, from the understated to the majorly bizarre.
The Student Art Exhibition is being displayed through May 17 in the Atkinson Gallery on West Campus. Many, but not all, of these pieces are for sale.