Engagement offers hope for SBCC's hopeless students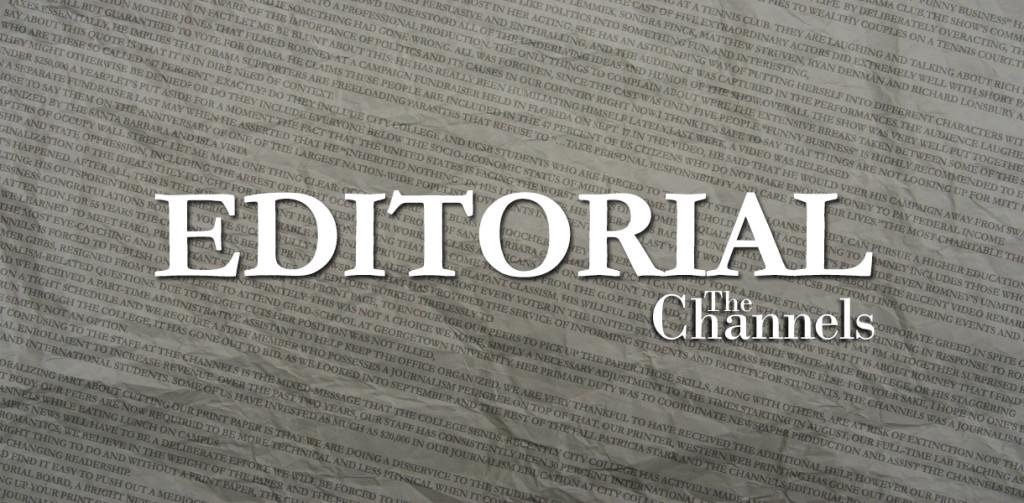 The Channels Editorial Board
November 8, 2013
City College students are feeling more and more hopeless, but why?
Maybe it's because some of you are having a hard time taking a break from the hooch to actually learn something in your classes.
A recent health survey of 770 students revealed that over half of City College attendees are feeling hopeless. The Channels urges students to be more like us, and join a club on campus with people who have similar interests.
For your information, alcohol and drugs don't always lead to decent friendships, let alone decent grades.
While underage drinking can be fun, feeling hungover on campus isn't the solution to your depression and it certainly won't cure those hopeless feelings.
Because many City College goers come from out of town and out of the state, the National Health Assessment exposed that students have trouble creating new friend groups.
Common ground tends to lead to long-lasting, real friendships.
City College offers countless opportunities to join a community of like-minded people achieving something they care about.
For goodness sake, there is a polo club for you horse lovers and a video game club that can get you out of your basement and into a social group.
Joining groups like these can help you become focused, and discover more about yourself. Having motivated people around you helps derive a focus.
Moreover, physical education will help you feel better in so many ways. The release of endorphins leads to an increase in happiness and drowns out your hopeless thoughts and fears.
In said P.E. classes, you will have a chance to boost endorphins and earn units and friends—the ultimate combination.
So get involved.
For those of you concerned about your intimate relationships, it is important to make sure you are being true to yourself and not just having sex with someone for the hell of it.
This can lead to insecurity, even though you are probably convinced it is boosting your confidence.
Here's another consideration for you, is it really wise to spend the night partying, when it could possibly get you expelled from City College?
No, probably not.
Due to recent complaints from tenants near campus about excessive noise and partying on Barranca Ave. and Oceana St., the college is looking into adding community rules to its Standards of Student Conduct.
That means you should probably find another way to blow off steam… Or just head out to the original Isla Vista for your debauchery, as long as you have a designated driver.
All in all, do what you can to become involved on campus—it will help you find people who are interested in more than just drugs, sex and alcohol.
And while we may be in college and going crazy is part of the experience, it really won't lead to a better life in your late twenties.
When you are over 21 drinking will still be fun.