Vaquero quarterback shows East Coast style in undefeated season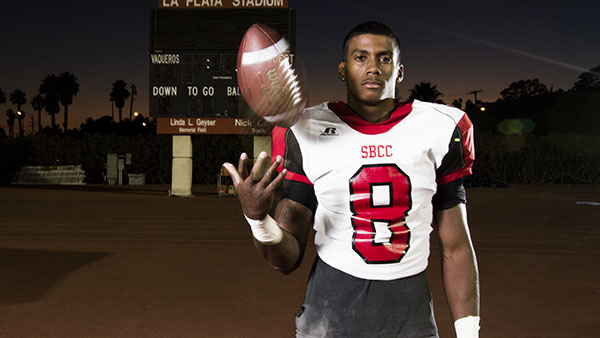 Football takes work and dedication on and off the field.
Jarred Evans (No. 8) is the starting quarterback for the undefeated (6-0 overall, 3-0 conference) Vaquero football team. Growing up with nine siblings in Queens, NY, he didn't only compete for attention in the midst of friendly sibling rivalries, but he made competition his life.
However, football wasn't always the top of Evans' radar. At age 8, he started boxing and wrestling, winning Junior Olympic and Metro Championships.
"Boxing and wrestling was my life for four or five years," he remembers.
But football came back to the forefront when he turned 13 and his dad thought that's where Evans belonged.
Before every game, Evans calls his father who tells him, "Get ready. It's time to shine, time to ball. It's time to show and prove to the world who you really are."
"He tells me that every game and I play my heart out," Evans said.
Nothing Comes Easy
At 6-foot-3 and 191 lbs., Evans is a leader for the Vaqueros. Although currently suspended, Head Coach Craig Moropoulos thinks Evans will be back this season.
Moropoulos would not comment on the inter-team issue of Evans' suspension but did say that Evans "is focusing on his academics."
"You make mistakes," Moropoulos said. "You pay the penalties. You move on. You get better from it."
Evans plans to graduate in December with his associate degree in communication.
"My main focus is my education right now," he said. "I'm trying to get to the 4.0, but it's hard. It's a lot of work."
"You gotta really sacrifice a lot of time for what you really want."
He is taking a total of 14 credits this semester with a GPA of 2.9.
UConn, Houston, Cincinnati, Syracuse, Utah, Temple and New Mexico State are some of the colleges that have been looking to add him to their roster.
New Mexico State has been the front-runner for recruitment as they have already offered him a spot on the team, according to Moropoulos.
Leading By Example
Being the middle child of nine siblings, stepping up as quarterback and leading a football team just seemed like the natural progression of things for Evans.
"It makes my mind a lot straighter, just in life," he said. "I know I have younger siblings looking up to me and if I do something wrong or do something that's going to neglect my future, my path and my career, they are going to look at me and make the same mistake."
"So I feel like if I do it correctly, they'll do the same thing."
The same idea goes for the football field. Evans said the team wasn't focused on the same goal the last few seasons. Individuals played for themselves instead of for the good of the team and didn't listen to the direction of the coaching staff.
This season, not only is Evans leading the team as the American Pacific Conference Offensive Player of the Week, twice in a row, there is almost an entirely new coaching staff.
"We didn't really have a great coaching staff to be honest," Evans said. "If we had this same coaching staff last year, we would have done a lot better."
Opinions match up as Moropoulos looks at his 8th season with the Vaqueros. Moropoulos became head coach in 2007 with a record of 4-6. Now with his first undefeated season, he sees how the new coaching staff and the quarterback have affected the team.
"Jarred is one of those quarterbacks that leads by example," Moropoulos said. "Those guys know that one thing that Jarred Evans is gonna give them is everything he's got. That's really really important."
The season's success is based on a "never give up attitude" and accented by the "family attitude" of not turning backs on teammates and players.
"I'm blessed with a very good staff and each one is very responsible in their areas that I've given them," Moropoulos said. "Our guys are just playing. They're the ones that are doing it on the field. So the credit of 5-0 needs to go to the right people and that's the guys on the field."
Playing for a beaten team
Evans admits that he doesn't know why he chose City College.
"It's a great view, a great school, but this was last of my choices," he said. "I could've chosen lot of other junior colleges that wanted me to come play for them."
When Evans looked at City College, the football team was 0-10.
"They were basically losing for the past three years," Evans said. "I told myself, my parents, I told my father that if I come here that maybe I'd make a big difference."
Moropoulos acknowledges the difference Evans has made on the team but recalls when he first arrived. He said Evans was a good athlete but lacked the discipline needed to succeed in the system.
"When he came here he was very 'all over the map' to use the cliché," Moropoulos said.
The coaching staff that Moropoulos brought in has been the kind of system that fits Evans' playing techniques. He has 991 passing yards and is leading the team with 243 rushing yards this season.
"When he walks off [the field], he did his best and that's important and good to have," Moropoulos said.
You can watch Evans at the next City College home game at 1 p.m. Nov. 2, against Santa Monica at La Playa Stadium.