Broadcast network provides new opportunity for SBCC athletes
There's a new way to catch every home sporting event that hits City College in 2014.
Unlike any other two-year institution in the state of California, fans are now only a few clicks away from streaming high quality audio and video of any Vaquero home game, match, or event, right on their own device.
City College is proud to be a Junior College unparalleled to most. Not only has it been claimed academically as the number one community college in the nation, but it's also proud to host students from 75 different countries from around the world.
 Appropriately, the Vaquero Broadcast Network's inaugural sports season is perfect to introduce the new viewing experience platform. This fall alone, the teams collectively have 41 international athletes competing each week.
"We have student athletes from all over the state, country, and world," said Athletic Director Ryan Byrne. "We're able to extend the Vaquero family out to all their friends and family through this portal."
In the past, the family and friends of the Vaqueros have seen just plain video, waited for either the box score to arrive online from a different time zone, or a Facebook message with an update on game highlights from their student athlete.
City College has changed this.
By logging onto portal.stretchinternet.com/sbcc/, anyone can sign up to receive live play-by-play video footage of each home sporting event. The voice on the other end of the stream is Occidental College graduate Ryan Graff.
Though injury cut Graff's football career short, he kept sports in his life by helping found a more formal student media program at Occidental, working as the Tigers' main play-by-play voice for 13 of 21 varsity sports.
"After Occidental, I was offered graduate assistant position for their program," said Graff. "But I was looking for a more full-time position."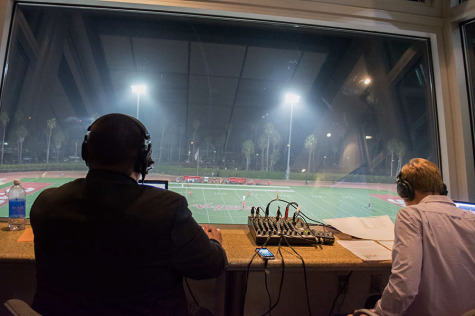 Graff previously served as the Director of Broadcasting and a Student Assistant Sports Information Director at his alma mater in Los Angeles. Graff graduated May 2014 with a Bachelor of Arts degree in English and Comparative Literary Studies, with a Creative Writing Emphasis and minors in Media Arts and Culture and Classical Studies.
"I was looking to launch my career soon after I graduated and I sent emails out to almost every College within about 35 miles," said Graff. "The first contact I was able to make was with SBCC."
The new Vaquero Broadcast Network is almost a clone of what Graff was able to produce at Occidental. Graff has also made guest color commentary appearances for the Visalia Rawhide, which is the Single-A Advanced affiliate of the Arizona Diamondbacks.
But collegiate sports are where Graff's heart lays.
"Visalia was great, but the fan base was mostly made up of the local population," said Graff. "Here at City College, the viewers are more committed to the athletes. It's their flesh and blood, their kids, their friends."
The viewers can watch their student athlete's whole home season, with a season pass subscription to the Network.
"That for me is more rewarding," said Graff.
As far as comparing the network to other Junior Colleges in California, Graff and Byrne are confident that there's no parallel.
"Some schools do audio, some do video, but not both," said Graff. "Play by play, analysis, the whole package. No one else does it like us."
Top to bottom, the network can be compared to four-year DIII and DII networks. So far, City College is equal, or is going to surpass Occidental's DIII program quality very soon. The campus advances make City College feel unlike any other two-year institution in the country.
"It's an example of how innovative Santa Barbara City College is as an institution," said Byrne. "It's the institutional culture. We always try to push the things that we see are kind of the future."
But the benefits don't stop at the athlete's family and friends. Now, the athletes can be seen by four year schools as well, without the inconvenience of flying to Santa Barbara to catch a game or match. With a purchase of a one game pass, a scout from a University can see his or her soccer or football prospect from their own school's office.
"We're providing additional opportunities for students because they can be seen by college recruiters," said Byrne. "And we're also extending our community out virtually."
"Everything that we do, we try to be the best that we can possibly be at it," said Byrne. "This is another area that we do that. We're trying to provide opportunities for our students, and also build community."
"Supporting students, extending the community, and providing additional opportunities… I think this is a perfect example of that," said Byrne.
This is the new age. People are getting used to connecting over the internet through live video. It's the future.
And as far as sporting events go, City College is making it the now.